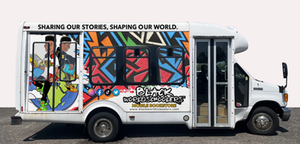 Black Worldschoolers Mobile Bookstore, a bookmobile focused on Black authors and stories, made its debut last month at a Juneteenth celebration at White River State Park in Indiana.
Owner Natalie Pipkin told WFYI Indianapolis that she carries books for all ages, from baby books to adult fiction and nonfiction, along with a selection of games and puzzles. There are books about Black history and heritage as well as "superheroes and everyday life." Around "95 percent" of the mobile bookstore's inventory is written by Black authors, and Pipkin noted that she or one of her children read and approved almost every book she sells.
"Our books, first and foremost, are mirrors to Black people, to Black children, so they can see themselves in a positive light and wash away the negativity that's been poured on them," she said. "But also, our books are windows because it gives other people who are not Black an opportunity to step into a world to see us in the correct light, in the correct way, and learn something that they are not going to learn in the schools, they're not going to experience from the news every day--that the statistics are not sharing."
Pipkin's career as a bookstore owner grew out of her experience curating books for her children after they started homeschooling. Her children's desire to read "skyrocketed" once they had a home library that reflected their experiences and interests, and it even "reignited [Pipkin's] own love of reading." She also began blogging about the journey of homeschooling her kids.
After the Covid-19 pandemic began, Pipkin started a storytime hotline in April 2020 that "allowed kids to call in and hear a story read by Black authors." In December 2020 she created an online bookstore. The mobile bookstore, meanwhile, is built out of a renovated shuttle bus.
Pipkin's next scheduled appearance will be at the Black Wall Street Outlet at the Silver Centre Event Hall in Indianapolis on July 16.