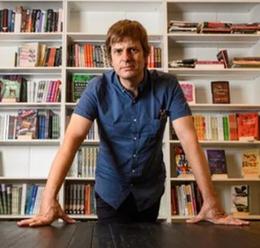 Andy Hunter
Bookshop.org has been named a 2022 Best for the World B Corp, recognizing the company's "exceptional positive impact on independent bookstores" and "specifically in respect of the impact of its governance practices, including its overall mission, ethics, accountability and transparency."
The Best for the World distinction is made by B Lab to Certified B Corporations (or B Corps) whose verified B Impact Scores in the five impact areas evaluated in the B Impact Assessment--community, customers, environment, governance and workers--rank in the top 5% of all B Corps of a similar size. There are more than 5,000 B Corps in 80 countries and 155 industries, all of which aim to build "an inclusive, equitable, and regenerative economic system." B Lab, the global nonprofit network, certifies B Corps.
Bookshop.org founder and CEO Andy Hunter said, "Receiving the distinction of Best for the World B Corp is beyond what we could have expected when Bookshop.org launched two and half years ago. The site was launched to offer an ethical alternative to Amazon for customers who were unable to visit their favorite local independent bookstore in person. However, our commitment to a socially conscious shopping experience that benefits booksellers and customers extends into a long-term solution to support small businesses in a world where two out of three books are bought online in the U.K., most often through Amazon.
"My hope is that this recognition helps publicize the benefits of the ethical ecommerce platform for booksellers that we have created and inspires others across the industry to reflect on what actions they could take to help our independent bookstores stay open and thrive."