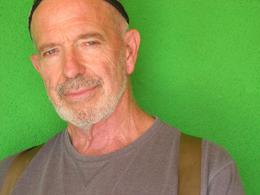 Bobby Byrd
Bobby Byrd, "a child of the South who became a leading literary voice of the U.S.-Mexican border," died July 11, El Paso Matters reported. He was 80. In 1985, Byrd, a poet, and his wife, Lee Merrill Byrd, co-founded Cinco Puntos Press, which helped develop numerous Hispanic and border authors over the years, out of their home in Central El Paso. They built it into one of the nation's premier independent publishers before selling it last year to Lee & Low.
"This poetics of mine is like a three-legged donkey," Byrd wrote in Otherwise My Life Is Ordinary, a 2015 collection of his poems. "A goofy-looking pack animal that stumbles along beside me. Damn thing just materialized haphazardly when I was growing up." His other published work includes White Panties, Dead Friends & Other Bits & Pieces of Love (2006).
Benjamin Alire Sáenz, whose story collection Everything Begins and Ends at the Kentucky Club (Cinco Puntos Press) won the 2013 PEN/Faulkner Award for Fiction, said: "Bobby was a sentimental man and understood the gift of tears--something we had in common. We had a profound respect for one another and the unapologetic affection we had for each other was present in our every encounter--even in our disagreements. I treasured our friendship just as I treasure the friendship I have with Lee who is as strong and as lovely a person as I have ever known. I will miss my friend."
Other authors published by Cinco Puntos Press include Sergio Troncoso, Dagoberto Gilb, Sonia Patel, Luis Alberto Urrea, Philip Connors and David Dorado Romo.
"I felt I learned from every exchange I had with him, about literature, El Paso, or social and political commitment through art," said Troncoso. "I can't imagine he won't be there at Ardovino's for another charla about the Southwest. I will miss him very much."
Romo said Byrd's interest in his research ultimately led to his first book, Ringside Seat to a Revolution (Cinco Punto Press): "He was older than me, but we were more like brothers. I never saw him necessarily as a mentor--we were just brothers (and) fellow explorers of El Paso, especially in the underground cultural scene."
Urrea tweeted: "Good-bye, Bobby Byrd. Cinco Puntos Press was a refuge for so many of us. There will never be another like Poppa Byrd."