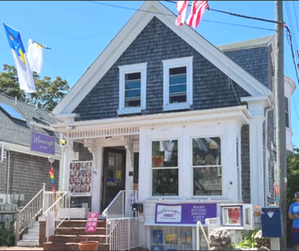 Womencrafts, Provincetown, Mass., has launched a GoFundMe campaign to help purchase the building where the shop is located, Cape Cod Times reported. Owner Michele Axelson has until August 1 to come up with a $200,000 down payment or the property will be placed on the market. Kathryn Livelli, a former owner of Womencrafts and current owner of the property, is retiring and is asking $700,000 for the unit. As of today, the campaign has raised more than $137,000.
"For 46 years, the store has been a mainstay in Provincetown," the Cape Cod Times wrote. "Owners have come and gone over the years, but they have all been women who identify as lesbians, feminists and supporters of the LGBTQI+ community.... Axelson, the fifth owner, said the store serves an important function providing a safe space for women and the LGBTQ+ community, as well as empowering that community."
Jeff Peters, owner of Provincetown's East End Bookstore, which organized GoFundMe campaigns when the pandemic shut down his business in 2020 and more recently when he bought the building in January 2022, has helped Axelson. "GoFundMe was good to raise awareness and money," Peters said. "We had people who knew about us and a range of people who didn't."
Axelson, who was reluctant to crowdsource until she had spoken with Peters, is hoping for similar results. "As hard as it is to ask for help, it gave me an outreach to a global community," she said of the GoFundMe platform, where she wrote: "Given Provincetown's skyrocketing rents and low inventory, it's not certain that Womencrafts will be able to remain in business. From dyke bars to bookshops, we've watched LGBTQIA+ spaces close in alarming numbers around the country. We do not want to join them. To ensure Womencrafts' legacy of making the world a safer, more welcoming place for the most marginalized among us, we need YOU."