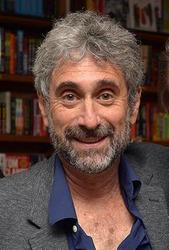 Mitchell Kaplan
Congratulations to Mitchell Kaplan, owner of Books & Books in southern Florida and co-founder of the Miami Book Fair, who will receive the Energizer Award for Exceptional Acts of Literary Citizenship from the Community of Literary Magazines & Presses (CLMP). The award will be presented at a benefit on November 2 in New York City.
Other honorees are:
Sarah Gorham, co-founder and editor-in-chief of Sarabande Books, who recently announced her retirement after 29 years, will receive the Golden Colophon Award for Paradigm Literary Publishing.
Laura Pegram, founder and editor-in-chief of Kweli Journal, will receive a new CLMP award, the Platinum Review Award for Excellence in Literary Magazine Publishing.
In its citation for Kaplan, CLMP wrote: "Mitchell Kaplan is the founder and president of independent bookseller Books & Books, opening the first store in 1982 in Coral Gables, Fla. Now with five South Florida locations, as well as affiliated stores at the Miami International Airport and in Key West, Books & Books hosts over 400 events annually and was named Publishers Weekly's 2015 Bookstore of the Year. Kaplan also co-founded the Miami Book Fair in 1985 and continues to guide the programming team at the fair, which takes place on the campus of Miami Dade College. Each year the fair presents close to 500 authors over one week in November; programs take place in Creole, Spanish, and English, reflecting the diversity of Miami. In addition, Kaplan has served as president of the American Booksellers Association, received the Literarian Award from the National Book Foundation, and established the Mazur Kaplan Company to bring books to the screen. He hosts the podcast the Literary Life with Mitchell Kaplan and recently accepted an appointment to serve on the board of the National Coalition Against Censorship.