Liz DeWandeler is the new owner of the former Books Unlimited in Franklin, N.C., and has changed the name to A Novel Escape. The Macon County News reported that the "building at 60 East Main Street in Franklin has housed hardware and general stores in its century-plus history. But since the 1980s, it has been home to a bookseller, most recently Suzanne Harouff, who was the owner of Books Unlimited since the 1990s."
When Harouff decided to retire, discussions began with DeWandeler, who had purchased the used bookstore Millie's on Georgia Road in 2019. A career veterinarian who moved to the Franklin area five years ago from Colorado, DeWandeler said she had always been a bookworm and decided owning a bookstore was her new career.
"I no longer wanted to be a vet," she noted, "so this was a natural fit for me. When Suzanne and I began talking, the most important thing to us was that Main Street not lose a book store.... I talked it over with my husband and felt it was a dream come true."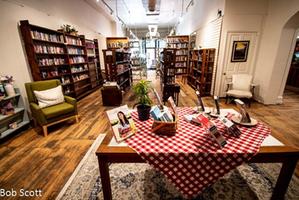 After purchasing Books Unlimited's inventory, DeWandeler closed the store for two months and made extensive renovations to the space in the fifth-generation-owned, 19th-century building. Her Georgia Road location, also called A Novel Escape, has been closed so she can concentrate on the Main Street store.
"I'm especially proud of how the children's area turned out," she said. "The children have lots of space in an area with so much natural light. I plan to have story times and other activities for them."
A Novel Escape offers a selection of approximately 60% used and 40% new books, as well as maps, puzzles, calendars, greeting cards, postcards, and more. DeWandeler observed: "I'm a big proponent of shopping small, individually owned businesses instead of the large online companies. And this store is still serving Suzanne's (Books Unlimited) long-time customer base as well as new customers, who are local, seasonal, and tourists."