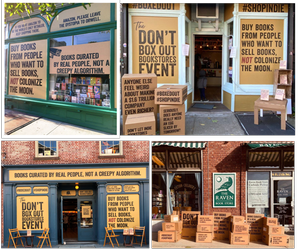 This week, in the middle of the dismal summer online retail blitz that is Amazon Prime Day(s), Twitter wags were out in force ("My heart goes out to those who couldn't spend Amazon Prime Day with their family or loved ones." And: "Sad that Amazon Prime Day has become all about buying stuff."). But it's no laughing matter for independent bookstores, and booksellers made sure their #AntiPrimeDay message was heard this week on social media. Among the highlights: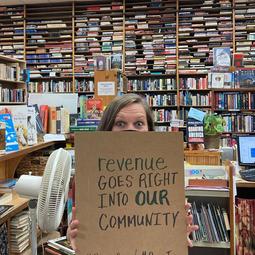 At Pearl Street Books, La Crosse, Wisc.
IndieBound: "This Prime Day and every day, remember: Amazon has monopoly power. It devalues books and harms communities. Support local businesses, including your indie bookstore, and keep the magic in your hometown."
Parnassus Books, Nashville, Tenn.: "Friends, it's that time of year again. Amazon is marketing 'epic deals' on July 12 and 13, but the #BoxedOut campaign is back to talk about what's really important and to shed some light on why Amazon is able to offer those deals.... Choose bookstores and small businesses, run by real people making connections and providing places for our communities to gather to appreciate the written word."
Wishing Tree Books, Spokane, Wash.: "A certain online mega-retailer owned by the 2nd richest person on earth is promoting some 'epic deals' in the next couple days, but those savings in the moment have a bigger cost down the line--to workers, small businesses, local economies, and the environment. We urge you to #shopindie.... Choose local shops & put your $$ back into your community. We appreciate you!"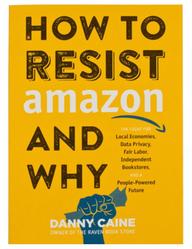 Raven Book Store, Lawrence, Kan.: "Happy Prime Day, remember that Amazon supports the politicians that are overturning abortion access."
Fact and Fiction Books, Missoula, Mont.: "Because we live in Missoula, work in Missoula, and pay taxes in Missoula. Because we are more about decolonization than colonizing the moon. Because humans give better reading recommendations than robots."
Good Neighbor Bookstore, Lakewood, N.Y.: "While you may feel like you are getting a great deal, the cost that we are all paying is the continued destruction of our small business communities. And not just the business community. But... the community as a whole. For every business Amazon destroys, it is one less business that is donating to your organization, sponsoring a local youth sports team, paying taxes that stay within our county, the list goes on."
Pagination Bookshop, Springfield, Mo.: "People, not algorithms. Spaces. Shelves. Browsing with other booklovers. Surprise connections. Personal recommendations. Neighbors supporting neighbors. Communities with personality. Gatherings. Curated gifting. Shane's Beatles sunglasses. Shopping local matters!!! It matters to us so, so much. Don't let indie bookstores get #boxedout by A*****, who will never have a spirited conversation with you about that ending or a strong opinion about the next fantasy novel you absolutely need to read right now or where you should definitely go for lunch after this."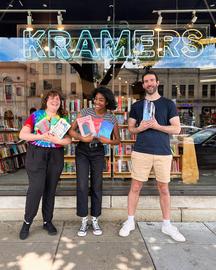 Kramers, Washington D.C.: "How do we say this 'politely': eff amaz*n. Characterless corporate conglomerates can never take the place of small bookstores, with real people, who care about you and what you're reading. Bookshop.org is fighting the good fight against amaz*n, offering free shipping all day (available on kramers website)."
Underground Books, Carrollton, Ga.: "Things you can do with Amazon--find a cheap copy fast. Things you CAN'T DO: you can't impress a date, go to author events, explore with your kids, show out-of-town guests, form lifelong memories, or grow up with Amazon--but you can with your local indie, and we need and appreciate your support so much."
Shop Around the Corner Books, Redding, Calif.: "There's a lot of talk on here about Prime Day--here's my take: shopping local is best, Amazon isn't evil, buying books from a brick and mortar shop is more fun, small business owners work hard to bring you an experience and a product that the internet cannot, sometimes small business rely on web sales and we can all do better at purchasing responsibly!"
Curious Iguana, Frederick, Md.: "Surprise! We are giving away random gift cards for anti-prime day! Make a purchase at the Iguana for a chance to win."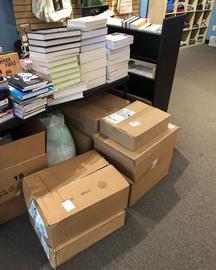 Subterranean Books, St. Louis, Mo.: "Today we're all boxed in with new stock, so you can #boxout Prime Day! It's a perfect day to show love and support for independent bookstores because we believe in: Real people who love books selling and recommending books. Sales revenues that go back into the community. Promotion of literacy and community building."
Loganberry Books, Shaker Heights, Ohio: "On Am*z*n Prime Day--and every other day--indie bookstores offer something you can't find in mega corporations. Thank you so much for supporting us however you can. We are here because you keep us here."
Loyalty Books, Washington, D.C. & Silver Spring, Md.: "Oh, is something going on in these internet streets today? Rather than contribute to our collective oppression we suggest getting an awesome shirt from our Bonfire, shopping with us directly or from our Bookshop page (free shipping Tues/Wed this week!) and continuing to be the awesome neighbors and community members you are no matter what your funds look like right now. We heart you. Happy indie day, everyday."
Novel Bay Booksellers, Sturgeon Bay, Wisc.: "Your local bookstore beckons: open a book, sink into a comfy chair and read, OR browse, touching covers, pages, dreamy, OR happily/maybe seriously chat books with us & other booklovers. However you visit, we appreciate that you are in a real bookstore, shopping local and supporting community. #antiprime"