Strive Bookstore, an all-ages bookstore in Minneapolis, Minn., focused on Black authors and stories, will celebrate its grand opening tomorrow.
Located within the Sistah Co-Op group of shops in downtown Minneapolis, Strive Bookstore is a part of Strive Community Publishing, an independent publisher focused on helping Black authors tell their stories. The bookstore occupies 200 square feet in the much larger Sistah Co-Op space.
Mary Taris, the founder and owner of Strive Community Publishing, reported that the inventory is split about "half and half" between children's books and adult books. There are books from Strive's authors as well as books published by other Black-owned publishing houses and books by local independent authors. Taris noted that there is a small selection of national titles, such as Will Smith's memoir Will and Viola Davis's memoir Finding Me, and Strive has a Bookshop.org page so customers can order whatever they like through the store.
"We really are finding that the community wants a well-rounded selection of books," she remarked.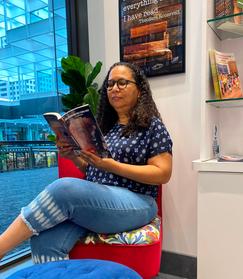 Mary Taris
The grand opening celebration will run from 5 p.m. to 7 p.m. and have an open house format, Taris continued. Strive author Anthony Walsh will read from his upcoming children's book Hockey Is for Everybody, and other Strive authors will be in attendance to talk about their books. Barbara Thomas, the artist who did the cover for Blend In or Fade Out, a memoir by Colnese M. Hendon published by Strive, will also be showcasing some of her work. Guests will have the opportunity to shop the other businesses in the Sistah Co-Op, which are all Black, women-owned businesses. Coconut Whisk, another local small business, will have a station serving food, and the mayor of Minneapolis is scheduled to stop by.
Taris pointed out that the grand opening will also kick off Strive's summer book talk series. Through the rest of the summer the store will host children's book talks every other Saturday, and on every other Wednesday there will be adult and YA book talks. Taris intends to use the space for book clubs as well, adding that Strive has two of them already. One is a group of Black women who are currently reading Finding Me, and the other is a virtual book club reading Blend In or Fade Out.
Strive Bookstore opened for business in the Sistah Co-Op in October 2021. Taris explained that she did not do much advertising at the time, instead focusing on building the bookstore's inventory; now she feels ready for the fanfare. She added that she is looking to open a second, bigger location in downtown Minneapolis next spring, and she's hoping to get plenty of feedback about what people would like to see in a downtown bookstore.
Taris founded Strive Community Publishing in 2018, out of her frustration as a teacher at not seeing enough diversity in children's books. Initially Strive focused entirely on children's books, but after the murder of George Floyd in 2020, Taris received "so many inquiries from people who wanted to be able to tell their stories, to be heard," that she began publishing adult books.
She recalled celebrating Strive's founding with a big gala at the James J. Hill Center's historic library in St. Paul. Around 160 people attended, Taris said. "It was a beautiful, memorable event. It showed that people cared about what we're doing." --Alex Mutter