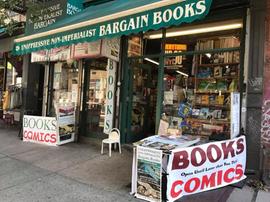 Unoppressive Non-Imperialist Bargain Books' old location.
Unoppressive Non-Imperialist Bargain Books in Greenwich Village, New York City, is staying open via a smaller, pop-up location after being priced out of its longtime home, the New York Post reported.
In June, owner Jim Drougas had to leave the space at 34 Carmine St. due to a rent hike, and instead of closing down entirely, he has set up a 300-book pop-up shop in Temperance, the wine bar and bistro next door. The pop-up will run through the summer as Drougas looks for a new, permanent home.
He told the Post that the two shelving units inside Temperance contain the "choicest, the crème de la crème of libros." It will be accessible Tuesday through Sunday, except when the wine bar is hosting private parties. Drougas also intends periodically to set up folding tables on the sidewalk and sell books outside.
The owner of Temperance offered the space to Drougas after he told the former that "things were going downhill" with his bookstore. The wine bar even created a cocktail named after Drougas's store, the Unoppressive, Non-Imperialist Americano, which features vermouth and club soda.
"It's really fun that it's right next door, on the other side of the exact same tree I've always been on," he told the Post, adding that the bookstore's cat is now living at a friend's townhouse in Midtown.