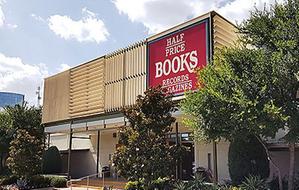 Half Price Books' flagship store in Dallas.
Congratulations to Half Price Books, which is turning 50 this year. Founded in 1972 in Dallas, Tex., by Ken Gjemre and Pat Anderson, the company now has more than 120 stores around the country that sell new and used books, DVDs, CDs, magazines, video games and more.
D Magazine has a long tribute to Half Price Books, now headed by Pat Anderson's daughter Sharon Anderson Wright, better known as "Boots." The article includes interviews and photographs of a range of customers, who love to buy--and sell--at Half Price Books.
"Half Price Books is a 50-year social experiment," D Magazine wrote. "By design, the store you visit Sunday won't be the same Monday. It's a living organism in a continuous state of evolution. One man purges, another consumes, each Half Price location a creation of its own unique community."
And in the words of co-founder Pat Anderson, the Half Price motto remains, "Be fair to customers and our employees, promote literacy, be kind to the environment and remain financially viable so we may continue."