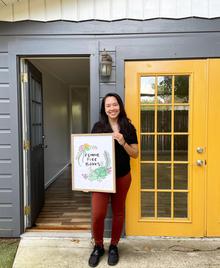 Vanessa Nicolle
Femme Fire Books hosted its grand opening last weekend at 2766 Park St. Suite 1, Jacksonville, Fla. The Florida Times-Union reported that owner Vanessa Nicolle "is expanding her previously online and pop-up event sales model of books written by women and people of color." When she started her online bookstore, she wanted to build a community for readers who didn't have much representation in the literary world. Two years later, that vision has resulted in the launch of her bricks-and-mortar store.
In April, Nicolle learned that Cultivate Jax, a home goods store that sold books as part of Femme Fire's "blind date with a book" program, had a space for lease opening up. "The opportunity presented itself, and, out of 20 applicants, they decided to punch in on an indie bookstore," she said.
Since signing the lease in May, she has been preparing the storefront to fulfill Femme Fire Books' mission "to celebrate diversity and encourage reading for all... and to raise the voices of women and people of color," the Times-Union wrote.
"I started Femme Fire Books just before the pandemic really started," Nicolle recalled. "I was kind of doing it just for fun because I love to read, and I love to share my books. I thought 'Let me try to send out books, and I'll see where this goes.' "
Nicolle launched her online bookstore while deployed with the Navy, and said she could not stop thinking about the business. When she got out of active duty last September, she began going to more pop-up events with her books. Calling the community response "overwhelmingly positive," she said: "People were saying, 'This bookstore is so cool,' and 'I feel so seen.' I think the most fun and fulfilled I feel is when I get to interact with my customers that come to my pop-ups who I get to see are so excited [about] a bookstore like mine in Jacksonville."
News4JAX noted that Nicolle "is Filipino-American and made sure to have stories reflecting her heritage on the shelves, like Halo Halo by Filipino author Justine Ramos."
"Seeing that interaction of people like picking up a book and seeing themselves is just like, you just can't really explain it," she said.