At Bethany Beach Books in Bethany Beach, Del., stickers, stuffed animals, tote bags and puzzles are selling very well, reported manager and event coordinator Zandria Senft. In particular, she said she's been blown away by the stuffed animals the store is selling, particularly those by Merry Makers and Folkmanis. Delaware recently banned plastic bags, Senft continued, so the store has seen a "huge uptick" in sales of tote bags and reusable bags. They're sourced from Out of Print, Gibbs Smith and Chico.
Asked about recent additions, Senft said the store has brought in some new stickers, bookmarks with timers and locally made candles, which the staff is "super excited about." Elaborating on the subject of local sidelines, she pointed to cards and magnets that are very popular. The store is right on the beach, and as such there are plenty of "beach-themed sidelines," and perennial favorites include things like puzzles, bookmarks and candles. Senft added that the store has been "super lucky" and has not seen any supply-chain issues recently.
---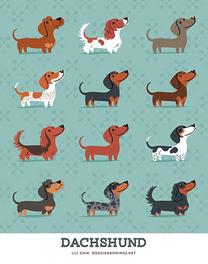 Lili Chin print
In Los Angeles, Calif., Skylight Books is seeing strong journal and birthday card sales, said sidelines buyer Frieda Gossett-Clayton. Lately she's been ordering a lot of journals from DesignWorks Ink and Block Block Publishing. For cards, there are "so many" different suppliers, but Gossett-Clayton said she really enjoys Gold Teeth Brooklyn and Carolyn Suzuki Goods, to name just two. Continuing on the subject of journals, she added that she routinely orders from Mal Paper, Moleskine and HIGHTIDE.
Asked about interesting new additions, Gossett-Clayton pointed to Studio Roof wall decorations. The elaborate, "super colorful" decorations are made of cardboard and assembled by slotting the different pieces together. The materials are eco-friendly and she said they're appealing to both children and adults. For locally sourced sidelines, Gossett-Clayton mentioned the designer Lily Chin, who makes posters and prints that are very popular with dog owners. She noted that puzzles have cooled off a bit after being exceptionally popular earlier in the pandemic, but sales of puzzles by Areaware and Piecework Puzzles are still strong.
---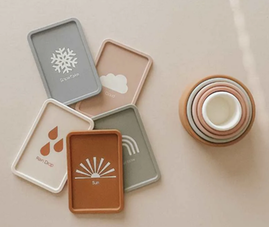 Flashcards and cups from Pretty Please Teethers.
Ashley Valentine, owner of Rooted MKE in Milwaukee, Wis., said Allura & Arcia's daily affirmation cards for kids are very popular at the moment, and she's brought in some new baby play and exploration toys recently from a small business called Pretty Please Teethers, which makes teethers, stackable cups, chewable flash cards, rattles and more. She also carries hand-poured soy candles from a local supplier called Blossom Candle Co.
Asked about items that are perennial favorites for the store, Valentine mentioned multi-purpose swaddles made by the Rooted Baby Co. The swaddles are dyed by hand and can be used as swaddles, nursing cloths, scarves and small blankets. On the topic of supply-chain issues, Valentine said she hasn't experienced any, and noted that she generally orders directly from the small businesses that make these items. --Alex Mutter