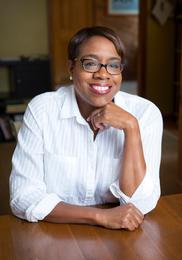 Lesa Cline-Ransome
(photo: John Halpern)
Author Lesa Cline-Ransome has won the New Atlantic Independent Booksellers Association's 2022 Legacy Award, which recognizes the impact Cline-Ransome has made in children's literature. The award will be presented Monday, October 17, in Rhinebeck, N.Y., during a NAIBA day of education and networking.
Cline-Ransome said, "Independent bookstores are the heart of any community, giving life to each person who enters and sustaining authors at every stage of their journey. I am honored to accept this award from NAIBA on behalf of every bookseller that continues to nourish me and all writers and readers, celebrating our continued love of learning, growing, imagination, and the need for connection through the power of story."
NAIBA board member Kirsten Hess, owner, Let's Play Books Bookstore, Emmaus, Pa., said that Cline-Ransome "has an incredible gift for storytelling. Not only in her ability to tell a great story with vivid, historically accurate details, but in connecting the reader to the emotional truth of the character and the time."
Cline-Ransome, who often collaborates with her husband, illustrator James Ransome, is the author of many award-winning picture book biographies, whose subjects include Satchel Paige, Major Taylor, Pele, Frederick Douglass, Louis Armstrong, Venus and Serena Williams, Ethel Payne, Harriet Tubman, and others. She is also the author of the middle grade Finding Langston Trilogy. Overground Railroad; Light in the Darkness: How Slaves Learned in Secret; Freedom's School; and Whale Trails: Before and Now are among her titles that uncover the hidden stories in U.S. history.