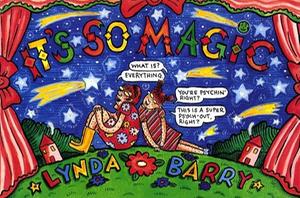 Lynda Barry is a teacher, an Eisner Award-winning comics artist, and a MacArthur "genius grant" recipient. Considered one of the form's most influential creators, Barry helped move the comic arts into the mainstream. Her career began with Ernie Pook's Comeek, published in college newspapers (by friend and future creator of The Simpsons Matt Groening) beginning in 1979 before being serialized in alt-weeklies around the country. It's So Magic collects Ernie Pook's Comeek episodes from the early 1990s featuring teenager Maybonne Mullen and her younger siblings, Marlys and Freddie.
When the book opens, Maybonne and Marlys are living with their grandmother, and Freddie is living elsewhere. In introducing their mom, Maybonne explains, "We don't live with her for she is too high strung." Few mentions are made of their mother, with only occasional references to a possible breakdown. Later, Freddie rejoins his siblings, and at the end, they all go home, a reunion that perfectly captures Maybonne's mixed emotions: simultaneously angry at their mother and overjoyed to see her.
Maybonne and Marlys take up most of the room in this collection, and they are perfect foils to one another, equal parts angst and antics. Teenaged Maybonne believes the world is magic even when she is low, experiencing what the ever-exuberant Marlys calls "riding on a bummer." As Maybonne wrestles with issues of faith and war and injustice and discrimination, Marlys manages to pepper her often hilarious segments with unexpected insights. It's So Magic offers true laugh-out-loud moments as well as thoughtful commentary that will feel as fresh today as it did in the 1990s.
Barry captures the voice and perspective of childhood perfectly, and each sibling is reflected through individual contributions such as Freddie's school reports on insects or Marlys's instructions on "Good Manners" ("Don't go chewing with your mouth all open! It looks like a whole washing machine of food!") or her list of New Year's Resolutions ("Don't tell people you can control bees with your mind"). If it feels like Marlys steals every scene, that's because she does, but it is through Maybonne that readers will find themselves thinking deeply about the human experience, and that is Barry's great gift: to make readers laugh and to make readers think, all at the same time. --Sara Beth West, freelance reviewer and librarian
Shelf Talker: It's So Magic shows off comics artist Lynda Barry's great gift: to make readers laugh and to make them think, all at the same time.