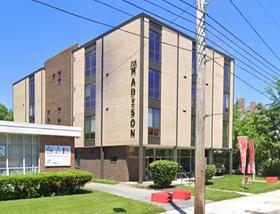 ThirdSpace Reading Room, a new and used bookstore operated by the racial equity consulting firm ThirdSpace Action Lab, opened last month in Cleveland, Ohio, the Land reported.
Located at 1464 E. 105th St., ThirdSpace Reading Room is the only bookstore in Cleveland's Glenville neighborhood and the only Black-owned bookstore in Cleveland. It's located in the same building as TSAL's office, along with the ThirdSpace Cafe, and its genre-spanning, all-ages inventory focuses on books by Black authors and features subjects like fiction, business, technology, history, spirituality, religion and more.
Harry Atwell, TSAL's community manager, is overseeing the bookstore's day-to-day operations and plans to grow the inventory based on community feedback. The bookstore held a soft opening during the weekend of Juneteenth, and next month will collaborate with the Cleveland Public Library for an off-site event featuring author Ashley C. Ford (Somebody's Daughter). The Reading Room also has several spaces community members can book for their own events.
Mordecai Cargill, co-founder and creative director of TSAL and ThirdSpace Cafe, said the Reading Room's "immediate audience is the people in the neighborhood and Black people, and we want to connect them with books." As the bookstore finds its footing, Cargill and TSAL co-founder Evelyn Burnett hope it becomes seamlessly interconnected with the rest of the organization's activities.
ThirdSpace Reading Room designer Celia Williamson added: "We want people to gather, relax, unwind and buy a book."
Named for the Black architect Robert P. Madison, the building in which TSAL, the bookstore and the cafe reside was built in the 1960s to provide office space for Black physicians. Cargill and Burnett founded the Third Place Action Lab to "disrupt the vicious cycle of disinvestment and displacement that exploit low-income communities of color."