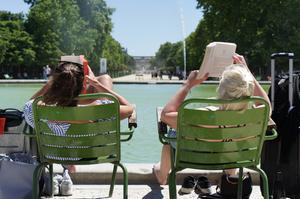 (photo by Filip Mishevski)
"Have you booked a summer holiday this year?" the Chartered Institute of Editing & Proofreading asked on Facebook last week. None of your business; that was my instinctive response. Admittedly I'm pretty rubbish at the whole vacation thing, so maybe the question just struck a nerve.
On the other hand, I have booked some excellent summer reads thus far (currently Claire Keegan's Orwell Prize-winning Small Things Like These), so maybe it's just a matter of reinterpreting that word "booked." As it happens, I have been doing this--and more--for the past couple of weeks as my reading has accidentally drilled down beneath the books to their component parts: words, punctuation, structure.
One example was CIEP's post, which noted that "several new words related to holidays are doing the rounds" and linked to a Cambridge Dictionary "About Words" blog entry featuring three vacation-themed wannabe words that have been making the rounds of the hippest lexicological hot spots this summer. Cambridge was seeking the public's advice on whether the following terms should be added to the dictionary:
Gratification travel: going on long, expensive holidays, usually to faraway destinations
Edu-vacation: a holiday that includes some educational activities, such as classes, cultural tours etc.
Hometel: a hotel that is designed to make guests feel as though they are living in a comfortable home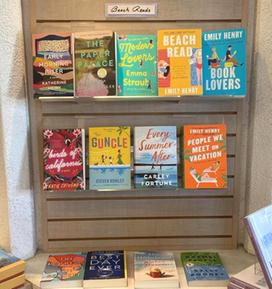 Beach reads from Laguna Beach Books.
I'd initially fallen down this component rabbit hole last month when Ohio State University trademarked "THE." In the Wall Street Journal, Jason Gay offered a suitably snarky analysis: "If you didn't hear THE big news: Ohio State has successfully trademarked the word 'THE' after applying to the U.S. Patent and Trademark Office. The trademark applies the use of the single word on apparel like sweatshirts, baseball caps, and the $19.99 T-shirt you buy for your father at a gas station just before arriving at your parents' house for Christmas.... La-de-dah, they actually did it. Ohio State, which likes to dramatically refer to itself as 'THE Ohio State University'--have you ever asked a proud Buckeye where they went to school?--finally got its mitts on the, well, the."
Gay called trademarking a three-letter article "some kind of crazy power-grabbing hubris. To be clear, Ohio State doesn't now own the use of the word 'the'.... When your Dad refers to Instagram as 'the Instagram,' he doesn't owe money to the administration in Columbus. The, the, the, the, the--see, I can use the word as much as I want, and Ohio State can't ask for a penny. Even if they did, try and get it, suckers."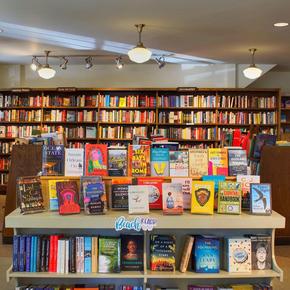 Suggested summer reads at Hickory Stick Bookshop.
Sports Illustrated pointed out that Ohio State Football celebrated by tweeting a picture "with 'THE,' giving a nod to SpongeBob SquarePants in the process. Take a look."
Also lurking down the rabbit hole was an IPWatchdog piece headlined "Devil in the Details: Does 'A' Mean 'One' or 'At Least One'?", offering this advice: "Patent drafters should be cautious about the proper use of indefinite articles 'a' and 'an.' Generally, when a claim is open-ended or partially open-ended, the term 'a' or 'an' means 'one or more' unless the context indicates otherwise. However, this is not a hard and fast rule, and the indefinite articles 'a' or 'an' can mean 'one and only one.' "
Wait, what? Let's switch to punctuation. A recent New Yorker Daily Shouts item imagined "collegiate punctuation marks trying to be the next Oxford comma." These included:
Notre Dame Semicolon: used to indicate a strong pause between two clauses, handy when cherry-picking political or religious beliefs.
U. of North Carolina Square Brackets: used when transcriptions of statements made by inebriated March Madness fans need more clarity.
Harvard Apostrophe: used when explaining how nepotism or social connections led to a speaker's current position.
Iowa Writers' Workshop Em Dash: used to clarify the full name of a celebrity or industry person previously referred to by a nickname.
Should we expand our reach to "past lives of the paragraph?" From the Hedgehog Review last week: "The paragraph began as a reader's mark; to the reader it should return. Certainly, we have the technology to make paragraphs malleable, whether by loosening the controls of digital environments or taking up a pencil in print ones. A pilcrow or a paraph will do. In fact, making a new paragraph is as easy as drawing a thin line in the margin."
Just as the rabbit hole seemed to be getting a bit too deep, I hit bottom at last with "From Motörhead to Mötley Crüe: A History of the Umlaut--Rock's Most Peculiar Punctuation," in which Mental Floss highlighted Vince Neil's umlautian recollections (Vanity Fair, 2009): "I can remember it like it was yesterday. We were drinking Löwenbräu, and when we decided to call ourselves Mötley Crüe, we put some umlauts in there because we thought it made us look European. We had no idea that it was a pronunciation thing.... When we finally went to Germany, the crowds were chanting, 'Mutley Cruh! Mutley Cruh!' We couldn't figure out why the f**k they were doing that."
OK... ("very probably the most widely recognized word in the world. And its origin story is literally a joke," according to Merriam-Webster). And now, it's time for me to book on out of this rabbit hole.