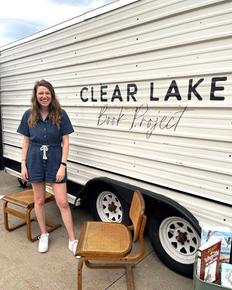 The Clear Lake Book Project, a mobile bookstore based out of a renovated 24-foot trailer, has opened for business in Clear Lake, Iowa. According to 3 News Now, owner Ashley Bruce Lumpkin carries predominantly used titles with a small selection of new books and sets up shop weekly at Clear Lake's Thursdays on Main event.
The Book Project carries titles for all ages in a wide selection of genres. Bruce Lumpkin has started a book club that meets on Mondays; the club's first selection is Where the Crawdads Sing by Delia Owens. While the mobile bookstore is open only one day per week at the moment, Bruce Lumpkin is looking to expand her hours. As the school year approaches, she also plans to start donating books to local teachers.
Bruce Lumpkin found the trailer that would become her bookstore on Facebook Marketplace while on a trip to Minnesota. She and her husband, Sean Lumpkin, had to drive home to Iowa and borrow someone's truck to return to Minnesota and bring the trailer home. Renovations and redecoration took several weeks. She noted that it takes only about 15 minutes for her to set up and break down the bookstore during appearances.
With the nearest bookstore about an hour away, the Clear Lake Book Project has seen a strong community response. "It's just been really cool to see all the people excited," Bruce Lumpkin told 3 News Now.