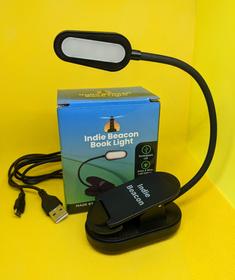 Independent bookstore owners Mike Buglio (the Book Rack, Arlington, Mass.) and Debbie Sullivan (the Book Oasis, Stoneham, Mass.) have collaborated to make the Indie Beacon Book Light. Available exclusively to indie booksellers, the light has a rechargeable battery, four LED lights with three different light modes, a flexible neck and lightweight clip, and a portion of the wholesale proceeds of each light are donated to the Book Industry Charitable Foundation.
Sullivan and Buglio are also the co-owners of the book fair company Fantastic Book Fairs, which they founded in 2017. The pair wanted to have a book light for sale at their fairs, but had trouble finding one they liked that was affordable. They learned that other booksellers were having similar problems, and in particular wanted a reasonably priced light that was rechargeable and had an amber light option. Buglio and Sullivan spoke to some overseas manufacturers and the "Indie Beacon was born."
Box design, they continued, began in February of this year and production started in March. The Covid-19 pandemic underscored the need for indie booksellers to support each other, and "making the Indie Beacon a give-back product was a no-brainer for us."
More details on the Indie Beacon Book Light can be found here.