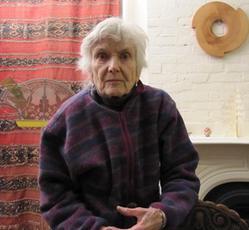 Ronni Solbert in 2009
(photo: Jessamyn West)
Ronni Solbert, an artist whose "joyful illustrations" helped make The Pushcart War--a children's novel about peaceful resistance to injustice, written by her partner, Jean Merrill--a classic, died June 9, the New York Times reported. She was 96. Solbert's illustrations, "at once urbane and emotional, very much in the vein of midcentury New Yorker cartoons, were likely to have contributed to its rapid elevation into the pantheon of children's literature." Merrill died in 2012.
In 1961, Solbert and Merrill were living on the north side of Tompkins Square Park, in Manhattan's East Village. When the Parks Department "announced plans to tear out many of the park's benches, chess tables and centenarian trees to make room for a softball field, the neighbors rose in opposition, writing letters, organizing protests and forming the Committee for the Preservation of Tompkins Square Park," the Times noted. The local activism helped inspire Solbert and Merrill to create a young adult novel.
In 2014, Solbert told the Valley News in Vermont, where she and Merrill had moved in 1970, that they had already published several books together and would collaborate on 18 in all, but The Pushcart War (1964) was their greatest achievement.
Among the many fans of The Pushcart War was the playwright Tony Kushner, who at one point hoped to adapt it as a screenplay and later wrote a blurb for an edition published by New York Review Books in 2014. "The book gave me a point of entrance--my first, I imagine--into the world of resistance to political and economic injustice and chicanery," he wrote. "It made opposition, even nonviolent civil disobedience, seem fun and right and necessary and heroic, and something even someone as powerless as a kid could and should undertake."
As a painter, Solbert "was fairly successful, with 17 of her works included in the Museum of Modern Art's 'New Talent' exhibition in 1959," the Times wrote. She had also started illustrating children's books. Solbert met Merrill soon after arriving in New York. They released their first book together, Henry the Hand-Painted Mouse, in 1951, and went on to collaborate on 17 more, including The Black Sheep (1969). In addition to writing three books of her own, she also illustrated the poet Gwendolyn Brooks's Bronzeville Boys and Girls (1956) and The Two Runaways by Aline Havard (1959).
"Art is my sanity, joy, frustration and passion," Solbert wrote in an artist's statement. "My subject is the human animal, our relationship with each other and to the world we inhabit. I want the work to invite reflection, open perspectives and challenge the viewers' emotional and intellectual responses."