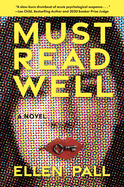 Ira Levin's Rosemary's Baby and John Lutz's SWF Seeks Same had better scooch over to make room on the shelf for Ellen Pall's Must Read Well, all three novels being sturdy examples of a seductive subgenre: psychological suspense set in foreboding Manhattan apartments.
As Must Read Well opens, narrator Liz Miller is going through a rough patch: after four years as a Ph.D. candidate at Columbia, her dissertation is at a standstill, and a recent breakup means she needs a new apartment. So she's elated when she spots a Craigslist ad seeking a "quiet female willing to read aloud to purblind landlady one hour a day" in exchange for a cheap room in a Greenwich Village building. It's not just the prospect of the room that delights Liz. From the e-mail address provided, she knows exactly who placed the ad: Anne Taussig Weil, the reason for Liz's languishing dissertation.
Anne, who wrote a 1965 bestseller, is one of the three subjects of Liz's dissertation, "Inadvertent Feminists: Three Mid-Century Popular Female Novelists who Advanced the Cause of Women." But Anne is the only writer who refused to speak with Liz. According to Liz's dissertation adviser, the Anne Taussig Weil content is too "skimpy"; what Liz needs is more Anne material.
Without disclosing her previous effort to get in touch, Liz answers the ad and is offered the room after she reads aloud to Anne's satisfaction--the 89-year-old widow's vision is failing. After Liz moves in, Anne wants to revisit a decades-old "episode" recorded in her journals, which she keeps locked in a drawer. As the reading sessions proceed, Liz becomes convinced that the journal content would dazzle her review committee. If only Anne hadn't made Liz sign a nondisclosure agreement requiring her to keep the journals' contents under wraps.
It's a tantalizing premise with a slow-drip execution. Both narrative strands--the present day and the past recounted in Anne's journals--are closely observed and compelling (some readers may find the younger Anne's behavior exasperating). And Pall (Among the Ginzburgs; Back East) nimbly captures the stinging resignation of the post-glory-days artist, whose newer work is forever measured against the breakout project. But the chief pleasure of Must Read Well is the suspense generated by the question of how far the increasingly duplicitous Liz will go to get what she wants from Anne, who, it bears mentioning, isn't the naïf she once was. --Nell Beram, author and freelance writer
Shelf Talker: In this slow-drip suspense novel, a Ph.D. candidate hides her motive when she rents a room in the New York apartment of the woman who's standing in the way of her dissertation's completion.