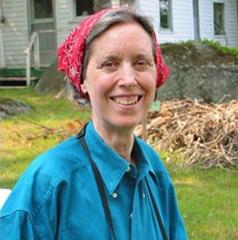 Merloyd Lawrence
Merloyd Ludington Lawrence, who co-founded the Seymour Lawrence imprint and her own imprint, Merloyd Lawrence Books, died on June 27 at age 89.
An Orion magazine memorial noted that Lawrence, who was also an "ardent environmental activist, health care advocate and animal rights crusader," founded the Seymour Lawrence imprint in 1965 with her first husband, Seymour Lawrence, and published fiction and nonfiction.
In 1984, she created her own imprint, "producing hundreds of works of nonfiction over the next four decades with Addison-Wesley, Perseus Publishing, Da Capo Press, Basic Books and Hachette. To those fortunate enough to work with her as a colleague, she was always supportive and frequently a mentor. As one publishing colleague of recent years put it, 'She was the kind of editor--and the kind of human being--that many of us aimed to be when we set our sights on a career in publishing.'
"As an editor, Ms. Lawrence was famously nurturing and devoted, gently yet precisely steering her authors to their best work. Esmeralda Santiago, whose classic When I Was Puerto Rican was published by Merloyd Lawrence Books in 1993, speaks for many authors when she says: 'Merloyd has influenced contemporary literature with her courage and wide-ranging vision. Her intelligence and sense of humor, her generosity and quiet strength brought out the best from the authors she edited. I will always be grateful for her keen eye, for her encouragement, and for her unstinting support of my efforts.' "
Lawrence published many important child health and development titles, including A Child Is Born by Lennart Nilsson and books by Dr. T. Berry Brazelton, Stanley Greenspan, D.W. Winnicott and John Holt. In the field of women's studies, she founded the Radcliffe Biography Series, which included Joseph Lash on Helen Keller; Paula Blanchard on Margaret Fuller and Sarah Orne Jewett; Vicki Goldberg on Margaret Bourke-White; John Malcolm Brinnin on Gertrude Stein; Robert Coles on Dorothy Day, Simone Weil and Anna Freud; and Sissela Bok on Alva Myrdal, as well as Georgie Anne Geyer's autobiography, Buying the Night Flight.
Other books she published were the Pulitzer Prize-winning Children of Crisis series by Robert and Jane Hallowell Coles; Ellen J. Langer's Mindfulness; Dr. Susan Love's Breast Book; titles by Sarah Lawrence-Lightfoot, Kenneth R. Pelletier, Sandra Steingraber, Arthur Young and Dr. Harold J. Bursztajn; and books on animals rights and wilderness conservation by Steven Wise and John Hanson Mitchell.