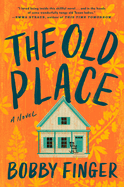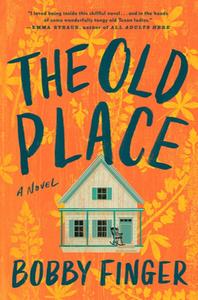 Bobby Finger's unforgettable debut novel, The Old Place, hits the rare and satisfying double note of harrowing and delightful. Roughly 90 minutes outside of San Antonio, Tex., a recently retired schoolteacher navigates various relationships and juggles old secrets in the kind of small community where everyone thinks they know everything about everybody else. Mary Alice Roth is a compelling, although decidedly prickly, protagonist; secondary characters only sweeten this heart-wrenching, warm-and-fuzzy small-town drama.
In the opening pages, Mary Alice is furious at being forced out of her job, and at the young woman--new to town and newly wed into an old family--hired to replace her. She tentatively renews her friendship with neighbor Ellie, hinting at one of the novel's first slow reveals: the two women (one widowed, one divorced) had sons the same age who were also best friends, until a double tragedy. As readers puzzle over the deaths of Mary Alice's husband and son, her (also long-estranged) sister, Katherine, shows up unannounced and unwelcome, all the way from Atlanta. Mary Alice continues her practice of bullying and haranguing the local ladies in preparation for the annual church picnic ("All the money spent there, whether on raffles or games or rides or food, went to Him whether you believed or not"). Katherine prods her to take responsibility for an old wrong, and together they reopen old wounds. Ellie privately nurses a new romance, only adding to the ever-twisting mysteries and secrets. Mary Alice's replacement, the newcomer, offers a refreshing outside perspective as a native New Yorker who is as surprised as anyone at how much she loves her new home.
The Old Place muses over the stereotypes of a town like Billington, Tex., where privacy is scarce and prejudices persist, but where forgiveness and even redemption may just be possible. Mary Alice is a difficult woman to like, but the people who surround her--and the life she's lived--keep her from being pure villain. By the novel's second half, everyone is more nuanced than they originally seemed, and the fictional Billington feels as multifaceted and significant as any real hometown. Finger is expert at the careful disclosure of one secret after another, and his characters capture hearts and imaginations. His novel beautifully profiles the iconic small town, both holding it accountable and celebrating its quiet humanity. "Even a town in decline never really stops growing. People may leave, but their stories remain, reverberating in the bones of all those left behind." At its heart, The Old Place is about the way people relate to one another: family, neighbors, new and old friends. The messiness, pain and grace of these relationships are candidly portrayed in a story that will inspire laughter and tears, making this debut a memorable achievement indeed. --Julia Kastner, librarian and blogger at pagesofjulia
Shelf Talker: An irritable retiree in a small Texas town stars in this sweet, poignant story about community, secrets and all the ways to love.