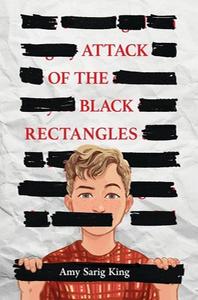 A sixth-grader confronts school censorship and tackles his own insecurities in the process in this timely and impassioned middle-grade novel about difficult truths, agency of youth and the importance of having grace in complicated circumstances.
Laura Samuel Sett's reputation precedes her. She is known for letter-writing campaigns, convincing the town to enact ordinances restricting such things as junk food, and for believing "rules equal safety." Mac Delaney, his anxious and loyal best friend Denis and noted feminist Marci all land in Ms. Sett's classroom. A "too perfect" first day of school gives way to conflicts when the students find black rectangles obscuring sections of their literature book, Jane Yolen's The Devil's Arithmetic. "Those areas of the book made some students very uncomfortable and made some of the boys in class giggle," the principal explains, "so [Ms. Sett] took care of the problem." Mac and his friends respond by demanding answers from an administrative system that rarely respects the maturity and wisdom of the children whose educations are shaped by its policies. And, thanks to some encouragement from Mac's patient and clear-minded mother and a great deal of support from his war veteran Grandad, they bring a frustrated township along in the process. Meanwhile, Mac also makes peace with erratic behavior from his troubled father, makes space for shame caused by insecurity and, with his friends, makes change that ripples throughout the community.
Printz Award-winning author King (Dig; The Year We Fell from Space) offers here an empathetic protagonist whose personal growth should empower readers to evaluate for themselves whether the way things are is the way things ought to be. King discusses enslaver founding fathers as well as colonization by Christopher Columbus to show that Mac understands "if we want to change the world so it's good for everyone, it's important to talk about the truth." Short chapters punctuated by newspaper letters accelerate the story's pace, and authentic side plots about family, friendship and a first crush keep the weighty theme of censorship from overwhelming readers. King does an outstanding job of normalizing messy emotions and is especially deft when allowing for Mac's disappointment around his father and confusion over Ms. Sett's seemingly contradictory behaviors. An author's note explains King's personal connection to the story.
An empowering and instructive affirmation of youth, truth and intellectual freedom, this is an essential read given the alarming proliferation of book challenges. --Kit Ballenger, youth librarian, Help Your Shelf
Shelf Talker: A sixth-grader and his friends confront their teacher's censorship of a book, leading Mac to address his own complicated emotions and truths in this aptly timed and empowering middle-grade story.