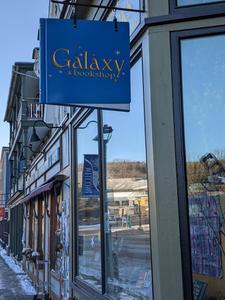 The Galaxy Bookshop, Hardwick, Vt., has found temporary office space and launched a $20,000 GoFundMe campaign to help in its recovery from significant water damage to the store and its inventory. Last week, a small fire in an upstairs apartment set off the building's sprinkler system and flooded the store below.
In an e-mail to customers, Galaxy wrote: "First of all, THANK YOU (we'll be saying this a lot) to everyone who has reached out by e-mail, phone, or in person, to express your support and offer help in one way or another, since last week's flood. We can't truly put into words how grateful we are for our community, but we hope you can feel that gratitude."

For the time being, co-owners Andrea Jones and Sandy Scott have been working from their "quickly assembled home office at Andrea's house to take care of logistical tasks relating to the flood and to make plans for getting back to the business of bookselling. We don't yet know how long it will be before we can move back into our South Main Street space and begin the physical work of rebuilding the bookstore, but in the meantime, we are going to be able to accept book orders with options for pickup in Hardwick or mailing to your home!"
 
Galaxy's new temporary base will be part of the shared office space in the Gohl building at 101 South Main Street on the second floor (above Front Seat Coffee). Beginning August 1, the bookshop will be accepting orders through its website, by phone and by e-mail. All book requests will be ordered, with Galaxy mailing them to customers or arranging pick up during office hours.
On the GoFundMe page, Galaxy noted that donations "will go towards mitigation fees, expenses for Tara Goreau--the wonderful artist of the bookstore's mural--for restoration and preservation of the piece, paying our vendors, and keeping us afloat as we work from a temporary space to get back to providing books to the community (in some capacity) as soon as possible.... Any money not used will be dispersed to community organizations."