Amazon's main U.K. division paid no corporation tax in 2021, despite profits increasing 60% to £204 million (about $241 million). The Bookseller reported that the online retailer "used the former Chancellor and now Tory leadership hopeful Rishi Sunak's 'super deduction' scheme for businesses that invest in infrastructure, by opening four new fulfilment centers. The relief, which allows companies to offset 130% of investment spending on plants and machinery against profits for two years from April 2021, resulted in Amazon getting a rebate on its prior year tax payment of £18.3 million [about $21.6 million] in 2020, with nothing to pay in 2021."
Revenues at Amazon UK Services, which is the retailer's warehousing facility, surged by more than £1 billion (about $1.2 billion) last year--from £4.9 billion (about $5.8 billion) to nearly £6.1 billion (about $7.2 billion), the Bookseller noted, adding that revenue for the whole U.K. business was £23.19 billion (about $27.4 billion).
In a blog post on its economic impact in the U.K. for 2021, Amazon said: "The stated purpose of this capital allowance was to encourage businesses to make productivity enhancing investments and promote economic growth. Any tax reduction as a result of these capital allowances is more than made up for by the thousands of additional jobs created and the economic growth which has been stimulated by these investments."
---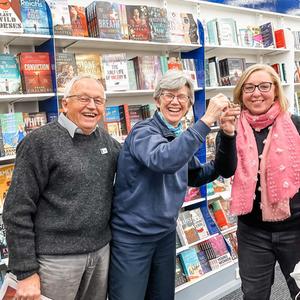 Phillip and Margaret Schwebel, founders of Collins Booksellers Orange, handed the keys to new owner Kelly Rimmer.
In Australia, author Kelly Rimmer "has decided to make the transition from writing books to selling them too after buying her regional community's last bookshop," ABC News reported. Collins Booksellers in Orange, NSW, was founded 22 years ago by Margaret and Phil Schwebel. Rimmer did not want to see the city's last bookshop close down or ownership move out of the region.
"It really matters to me and my family that the Orange bookstore is owned by people who live in Orange or close to Orange," she said. "It's always been a family store. And so there's something really, really unique and special about continuing that tradition too."
Rimmer, whose books include The Things We Cannot Say and The Warsaw Orphan, plans to get her whole family, including her children, involved in running the shop: "I think there's something powerful for kids about being surrounded by books in a bookstore or in their home. I hope that they come to see that literacy and reading really matter and that the right book at the right time can actually change someone's life."
She is optimistic about the prospects for her new venture, noting: "I obviously wouldn't be purchasing a physical bookstore if I didn't believe 100% in the future of that technology. In Australia, we really like to go to the bookstore, have a browse, have a chat and have a book recommended to us. There's no substitute for that."
Former owner Margaret Schwebel said the store "needs to be suited just to that community. And that's what we've been aiming for. I can see that's what Kelly is going to continue, so Orange is going to be very well serviced."
Rimmer added: "There's a thriving, independent bookstore culture in Australia, and it's pretty exciting to get to be a part of it."
---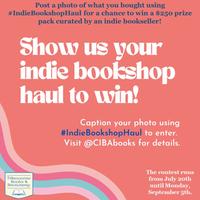 The Canadian Independent Booksellers Association is running a special social media contest this summer to "encourage readers to shop at indie bookstores, show off their purchases online, and promote the value of shopping local."
To enter, Canadian readers can visit their favorite indie bookstore and post a photo of their purchases on Facebook, Instagram or Twitter using the hashtag #IndieBookshopHaul. Every unique post will count as one contest entry, with no limit to the number of times a reader can enter. CIBA will share entries and remind readers to enter on a weekly basis through September 5.
From the pool of entries, the CIBA team will randomly select a winner, who will receive a prize pack of books and merchandise worth C$250 (about US$190), curated by a Canadian indie bookseller. The winner will be asked to provide some information about themselves as well as their preferred bookstore, which CIBA will reimburse for books, merchandise, packaging and shipping costs.
"Here are two stacks we made as inspiration!" Shelf Life Books, Calgary, Alb., posted on Facebook. --Robert Gray