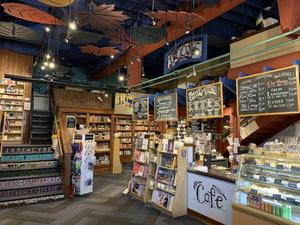 Danielle and Mike Skov are the new owners of Off the Beaten Path Bookstore and Cafe in Steamboat Springs, Colo., the Steamboat Pilot reported. On July 13, the Skovs officially took over from previous owners Ron and Sue Krall, who purchased the bookstore from Dick and Leslie Ryan in 2008.
"The primary thing was knowing that Danielle and Mike would be wonderful stewards of the community treasure that the bookstore has become," Ron Krall told the Pilot. "We weren't otherwise really looking for anybody to sell the bookstore to, but when Danielle and Mike came forward and expressed their interest to us, we felt like the investment of nearly 30 years that the Ryans and we had made in the bookstore would be in good hands."
The Skovs plan to spend the first several months learning the ropes and getting to know the bookstore's 20-person staff. Once they have a better feel for the business, they'll brainstorm as a team about any changes they might want to make. "I feel so fortunate that our staff has stayed the same," Danielle Skov said.
"We feel like it's really important for our town to have a bookstore, specifically an independent bookstore," she continued. She and her husband have lived in Steamboat Springs for about 24 years, and her professional background is in teaching. As she thought about what she wanted to do when she stopped teaching, she and her husband approached the Kralls and said if they were ever interested in selling the store, they'd like to buy it.
Off the Beaten Path first opened in the late '80s under the name Boomtown Books. The Ryans purchased it from the original owners after seeing a classified ad in the Wall Street Journal, though they lived in Los Angeles at the time. They moved to Steamboat Springs, where they'd already bought a home. They owned and operated the store for a year before moving it to a new space, adding the cafe and changing the name to Off the Beaten Path.