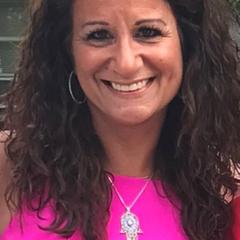 Eileen Kreit
Eileen Kreit is leaving her position as v-p, business development of Viking Books for Young Readers and Philomel Books, after a 35-year career at Penguin Random House. Her last day is this Friday, July 29. As president and publisher Ken Wright wrote in a letter to staff, after "much soul-searching over the last months, Eileen has made the decision that it is time to think about her next adventure."
Kreit began her publishing career in 1990 on the sales team at the Putnam Berkley Publishing Group. In 2000, after the Penguin Putnam merger, she was named director of national accounts. In 2004, she moved to the publishing side of Penguin Young Readers and was named v-p and publisher of Puffin Books, and become president and publisher in 2007. In 2018, she moved to her present position.
Wright noted many of Kreit's publishing successes, including expanding the Penguin Young Readers' paperback publishing program and expanding the publishing program of Roald Dahl in the U.S.; expanding the Corduroy, Madeline and Pippi Longstocking franchises; the 40th anniversary celebration of Mildred Taylor's Roll of Thunder, Hear My Cry; continuing sales of The Outsiders by S.E. Hinton; and her involvement in publishing Judy Blume, the Stranded series by Jeff Probst and Chris Tebbetts, Let It Snow by John Green, Maureen Johnson and Lauren Myracle and more.
Wright commented: "We all know Eileen as an amazing advocate for our books, our authors, and our readers, and also, to so many of us, she is not just a colleague, but a wise mentor, a dear friend and an encouraging and charismatic partner.... Eileen's infectious spirit, congeniality, and humor have graced the halls at Penguin and PYR for the more than 30 years she has been with the company. She has been a wonderful friend and trusted colleague to so many of us. While we will truly miss her, I'm so pleased with her excitement about the exploration of what is next for her and wish her much happiness in everything that the future brings."