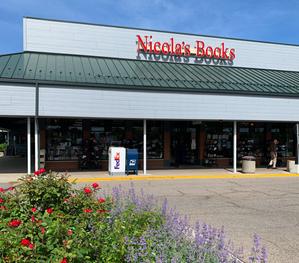 Nicola's Books, Ann Arbor, Mich., has been renamed Schuler Books, like the two other stores owned by Bill and Cecile Fehsenfeld, located in Grand Rapids and Okemos.
Former owner Nicola Rooney purchased the bookstore, originally known as the Little Professor, in 1995 and changed its name to Nicola's Books. In 2014, Rooney sold the store to Schuler Books. Although it was decided during the transition to leave the name Nicola's Books in place, in the ensuing years "the store has been a member of the Schuler Books family in everything but name," the company noted.
The name change will be accompanied by other developments. The company is in the process of annexing the former Old Siam restaurant, which, when completed, will allow for a more spacious children's section, the addition of a used book section, and the ability to increase selection in other areas of the store.
For the Fehsenfelds, who are both University of Michigan graduates and met while working at Ulrich's Books in Ann Arbor, purchasing Nicola's Books had been "like coming home for them, and they remain invested in the community. They believe that every community needs strong bookstores to grow and remain vital."
Schuler Books also said that since changing ownership, Nicola's Books "has maintained its unique personality and long-time community partnerships while continuing exceptional customer service, increasing inventory, presenting quality event programming, supporting local authors, and adding several new product lines including educational toys, art supplies and stationery. It successfully weathered the pandemic due to the excellence of its staff and the support of neighboring businesses and loyal customers."
What's next? "Well, construction dust for one!" the bookseller noted. "You'll also see the Schuler Books logo appearing in-store, our website transition to SchulerBooks.com, and our social media migrate to the Schuler Book channels and pages over time. While your in-store experience won't change, digitally you'll get to know our other locations a little better and those customers will get to know our Ann Arbor store. We'll be sure to keep you updated here as these changes are implemented. Lastly, our new name will go up on the front of the store, and we'll have a little celebration with you, our valued customer. We look forward to this next chapter as Schuler Books Ann Arbor."