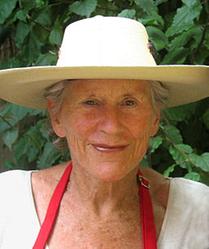 Diana Kennedy
Diana Kennedy, the British-born food writer "who dedicated her career to promoting the richness and diversity of Mexico's culinary heritage and helped to popularize the national cuisine in the English-speaking world," died July 24, the Guardian reported. She was 99. The Mexican culture ministry confirmed her death at her home in Michoacán and paid tribute to her legacy, saying that she, "like few others," understood that conserving nature and its diversity was crucial to upholding the myriad culinary traditions of Mexico.
During her lifetime, Kennedy was referred to as the "Julia Child of Mexican cuisine," the "Mick Jagger of Mexican cuisine" and even the "Indiana Jones of food"--the latter from renowned chef José Andrés, who wrote: "She loved Mexico, Mexicans and Mexican cooking like no one! Her books open a window into the soul of Mexico! She gave voice to the many Mexican cooks, specially women. She was my teacher and already miss her. Will cook together one day again!"
Kennedy and her husband moved to Mexico in the 1950s and spent years living in Michoacán. "Having fallen in love with the country and its cultures, she worked to preserve native ingredients and traditional recipes under threat from growing urbanization, and spent decades documenting cuisines she found in villages, markets and homes across Mexico in books including The Cuisines of Mexico and The Art of Mexican Cooking," the Guardian wrote. Her other titles include The Tortilla Book; Recipes from the Regional Cooks of Mexico; Nothing Fancy; My Mexico; and From My Mexican Kitchen--Techniques and Ingredients. Her last work, Oaxaca al Gusto, took 14 years to research.
Arturo Sarukhan, a former Mexican ambassador to the U.S., described the death of the "great" Kennedy as a "huge loss for Mexico, the U.K. and Mexican gastronomy.... She changed the narrative and perceptions of Mexican cuisine from a bland mish-mash of TexMex towards a sophisticated tapestry of regional cuisines."
Kennedy's many honors include the Mexican Order of the Aztec Eagle, the country's highest award for foreigners. In 2002, Prince Charles visited Kennedy at her home to appoint her an MBE, for "furthering cultural relations between the U.K. and Mexico."
Kennedy will be remembered "for her forthrightness, and her criticism of faulty ingredients, shortcuts and plagiarism of her work," the Guardian wrote. "But her enthusiasm and fervent insistence on the right way to do things had an immense and beneficial influence, not least on chefs in Mexico and North America who were trying to produce good Mexican food."
In her later years, Kennedy had said she wanted to slow down, but couldn't, the Associated Press noted. "There are so many more recipes out there, handed down mother to daughter that are going to be lost," she said. "There are seeds and herbs and roots that could disappear. There is absolutely so much more that needs to be done!"