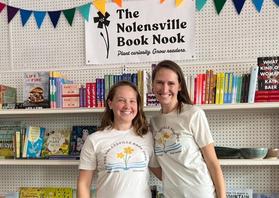 Jessica Bates (l.) and Dr. Liz Kiilerich-Bowles, owners of Nolensville Book Nook.
Childhood friends Dr. Liz Kiilerich-Bowles and Jessica Bates have founded the Nolensville Book Nook, a children's bookstore in Nolensville, Tenn., near Nashville, reported the WilliamsonHomePage. The store will hold its grand opening this Sunday, July 31, with a ribbon-cutting ceremony at noon, giveaways and food and beverages for customers.
As the news site recounted, Kiilerich-Bowles has been an educator for 15 years, mostly as a first-grade teacher. She took a break when the Covid pandemic started, then decided to return to teaching, at the preschool level, "where the idea for the Nolensville Book Nook began. She said working with preschoolers reminded her of how important literacy is for young children."
Kiilerich-Bowles said, "I realized Nolensville did not have a children's bookstore. So it kind of was this light bulb of--I love taking my kids to the bookstore, and there's lots of families here in Nolensville with young children, and you know, was a gap that was missing for our town."
Last October, she talked about the idea with Bates, who was immediately interested and recalled, "Reading and books and writing were always a big part of my life and a big part of who I am, and so when I had kids, it obviously continued, and I feel a lot of excitement watching them interact with books and all the worlds that books can open for you."
The pair started by selling at pop-up events, then found a space in the front section of Southern Eatery Diner.
The two want to "create a space where not only can you come look at books and see awesome books we've curated, but a space for community and classes and connection," Bates said.
The Book Nook plans classes, activities, book clubs, author events and more. Among them: a music class for preschoolers every other week, a bilingual story time with a Spanish-speaking instructor who will do crafts and activities, and an early literacy class for young children.