Wherever you wander you'll find an introducing author stepping forward with something he or she is passionate about, giving you the news about the way we live now, and saying to you: Here. Take it. You've got to read this.
--Ron Hansen & Jim Shepard, You've Got to Read This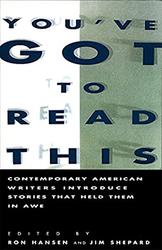 This anthology was published in 1994. I read and started handselling it immediately. I'd been told many times that short story collections were less than irresistible to bookshop customers (mostly by the customers themselves), but we sold the hell out of You've Got to Read This, a title that also happens to be the handseller's battle cry.
While enthusiastic handselling is a powerful and fun superpower for indie booksellers to wield, it can also be a captive of its own mythology. Not every bookseller is a natural handselling conversationalist nor a #BookTok video star. Fortunately, however, any bookseller can be a Staff Picks section and shelf-talker superhero.
I started thinking about this on Monday while reading the e-newsletter from McLean & Eakin Booksellers, Petoskey, Mich., which opened with co-owner Jessilynn Norcross introducing cool new staff mini-portraits, drawn by artist Betsy Petersen.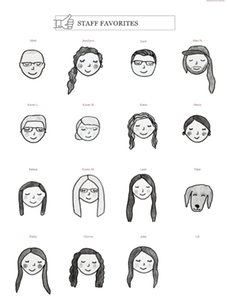 "We updated our Staff Picks Page, and we've never looked better!," Norcross wrote. "As Matt and I looked at the faces on the page, we just kept thinking of how we were looking at the backbone of McLean and Eakin. This business doesn't run itself. From putting the books on the shelf, to cleaning the bathroom, to creating interesting displays, these booksellers work hard to make the store appealing, friendly, clean, and stocked with excellent titles. They are the rock that kept the store going through the pandemic. They keep our community of book lovers happily reading new titles and coming back through our red doors another day. They influence everything from our inventory, to keeping our passion for discovering new books alive.
"As Matt so eloquently put it, 'They are the engine and the fuel.' Whether you're in our bookstore, or another retail establishment this week, we hope you are fortunate enough to have a friendly face like these to help you. We are lucky to work with such a talented group of kind-hearted, and truly lovely people. Have a great week!"
After reading this, I watched for bookstore Staff Pick posts on social media. Here are a few that popped up: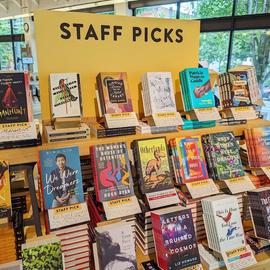 At Powell's Books
Powell's Books, Portland, Ore.: "STAFF PICKS! STAFF PICKS! STAFF PICKS! The big table in the Green Room at Burnside recently got an update. Here's a glimpse...."
Bookstore1, Sarasota, Fla.: "Since we love to recommend books for you, this week we took a look at our best selling staff picks. Here are the 10 that you found the most interesting in July."
The Willow Bookstore, Perham, Minn.: "Check out our bookstore staff picks! They have good taste. Obviously, look where they work!"
The King's English Bookshop, Salt Lake City, Utah: "Which bookseller recommendation do you look for in the store? All our booksellers have diverse but universally excellent taste in reading material!"
Hooked, Lansing, Mich.: "Don't miss our shelf talkers and staff picks--you're sure to find something good."
When I first interviewed for a bookseller position in 1992, I was surprised to learn that a significant part of my potential responsibilities would involve personally recommending books to customers looking for something to read. It seemed an odd prospect to me. I'd spent hours and hours in bookshops without ever really interacting with booksellers, except at the cash register.
The prospect of handselling (a new word to me) was a little scary. I'm a shy person, and definitely not an adept salesman. The "you've got to read this" incantation seemed well beyond my range. Why, I wondered at the time, would any self-respecting reader want more than solitude and silence while browsing the stacks at a good bookstore? I learned the answer soon enough, of course. I even learned how to have those amazing conversations in which I'd recommend titles to customers and they would return the favor.
But the best training wheels for me were shelf-talkers. I quickly discovered the power of a few well-chosen words on a piece of cardboard attached to a shelf or floor display, in front of favorite title. People started buying the books I recommended. Some of them sought me out for more suggestions. Bookish conversations developed that would carry on for years.
The Internet gradually upped the ante, with Staff Picks pages escaping the confines of the sales floor. Sometimes tourists would introduce themselves to me years after they'd begun reading my staff picks online. It was like discovering an old friend you'd never met before.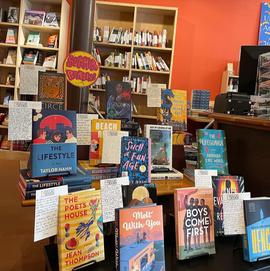 Shelftalkers at Flyleaf Books, Chapel Hill, N.C.
Wrestling with the eternal bookseller's dilemma of how to summarize a book in two sentences on a shelf-talker encouraged both sharp writing and, strangely enough, improved my conversational handselling technique.
Maybe I couldn't sell anything else, but I could sell books. And what was the secret? Something I'd known all along as a reader and writer, but hadn't realized was also a bookseller's superpower: trusting the quiet potency of the written word.