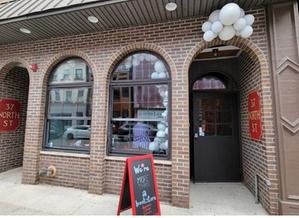 Sadie's Books & Beverages, a new Black-owned bookstore in downtown Middleton, N.Y., opened last month during Juneteenth weekend, the Hudson Valley Press reported.
Owner Yaa Yaa Whaley-Williams sells a variety of books in 22 different categories with their own unusual hashtags. There's #adult-ish, for YA books; #the G.O.A.Ts, pertaining to bestsellers; #restinpower, titles by or about cultural figures who died last year; #make$en$e, covering personal finance; and more.
The store's nonbook offerings include card decks, games, apparel and merchandise, all of it with a focus on the African diaspora, and the beverage part of the store's name refers to Caribbean drinks such as sorrel and mauby. Whaley-Williams has also partnered with other Black-owned businesses that will sell their products in the store and host workshops in the evenings.
In addition to those workshops, Whaley-Williams's event plans include monthly jazz nights, a monthly paint party for children, candlemaking classes, courses on financial literacy, storytimes, and family fitness classes. Next month, Sadie's will be doing two Back to College giveaways for college students, and on September 3 the store will host a Back to School Party.
Whaley-Williams told the Press that she named the store after her grandmother Sadie, who moved to the U.S. from Jamaica. She "didn't have much formal education, but she was passionate about giving my mother and all of her grandkids rich experiences centered in community with a love of books."
Some of her grandmother's belongings, including her typewriter, shortwave radio, vintage Polaroid camera and a Nina Simone album, are displayed throughout the store. Part of the store, in fact, is an exhibition space devoted to signed books and vintage "artifacts," some donated by community members.
"We're a cultural hub," said Whaley-Williams. "We're a Youth Chamber of Commerce. We're a space for community organizations to meet."