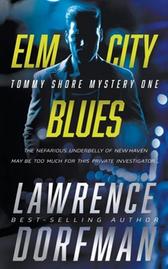 Editor's note: It's only appropriate. In one of our more unusual ways of delving into a new book series, we offer this transcription of a purported podcast q&a from one of the funniest and snarkiest authors--and publishers--around:
Host: Good morning, and welcome to Buried Treasure, the podcast that finds books from the murky morass of publishing and salvages them for our listeners. Or readers... maybe.
Today's guest is Leonard Dorfman, author of the Snark Handbook series and now the writer of Elm City Blues, a noir that takes place in New Haven, Conn. Leonard, welcome.
LD: It's Lawrence... or Larry. Not Leonard.
Host: Really? Thought it was Leonard. Anyway, let's dive in. What made you write this new book?
LD: Well, I've been in the book business for more than 40 years, with stints at Penguin, S&S, Abrams, Avon and Globe. Over the years, I've read many, many books, but the ones I truly loved were the hard-boiled crime novels. I'd had some moderate success with a series of humor books, the Snark Handbook series, but really wanted to try my hand at one of those. Like those by people like Lawrence Block, James Crumley, Robert Parker and the classics like Elmore Leonard and Raymond Chandler.
Host: Huh. Can't say that I've heard of them. Anyway, how did you come to write this book... what's it called again?
LD: Elm City Blues. I won a trip to Costa Rica while working for Capstone. I knew I wanted to set the book in New Haven and Connecticut, where I live. So while sitting with my wife in the tropical breezes on the cabana's veranda, I started writing. It flowed out. Wrote most of it on my phone and finished it when I got home. It surprised me how good it was.
Host: Gee, humble much? Anyway, then what?
LD: One book led to another and then another, until I had five. Found an agent, who sold them to the Rough Edges Press. The books are basically mysteries but they also include restaurants, bars, special locations and the history of New Haven. They're fun, with pithy dialogue. I envisioned someone taking a walking tour of New Haven based on the books. Also perfect for an HBO or Netflix series. I love Bosch and Reacher, too. With the right casting, Tommy Shore (the hero) could be an indelible character.
Host: You might be getting ahead of yourself. So, where can people get these books?
LD: They're distributed by Ingram so any store can order... or on the usual platforms, like Bookshop.org. The first one is out now and the next two follow in August. All with these great, noir-ish covers. Rough Edges, my publisher, made great packages. They'll fit right in with the books by the folks I mentioned, Crumley and Ross MacDonald and Donald Westlake.
Host: Can't say as I've heard of those people. I mostly read Twitter on my phone.
LD: Then why are you doing a book podcast?
Host: Because no one wanted one on botany, my real love. Anyway, that's it with Leonard... uh, Lawrence Dorfman, author of Elm City Blues. Goodnight.
LD: That was terrible!
Host: I know... but there're so many podcasts out there. Who's actually listening?
LD: Great.