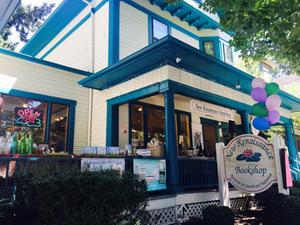 Because its block of Victorian houses has been sold to a development company that will tear it down, the lease for New Renaissance Bookshop, Portland, Ore., will end in January. Rather than seek a new site, the store plans to close.
As the store explained in an e-mail to customers, "With this shocking news, we explored many options. The main ideas being moving the store, or trying to find a broker to locate a new owner who would then move the store. After much reflection, we came to the conclusion that we don't wish to move the store ourselves. For us, it is time to start a new chapter. Amrita (Darlene) is ready to retire and pursue new projects and Claire, her daughter, is also ready to explore new possibilities. We connected with brokers, but soon realized that they are not interested in representing us since we don't have a dependable location. We would exclusively be selling our brand, our website, our new IBID computer system, our vendor relationships, our display fixtures, and possibly our remaining inventory."
Besides books, the New Age store offers a range of products and services, including candles, crystals, puzzles, games, cards, clothing, jewelry, wind chimes, reader and practitioner consultations and more. The store was founded in 1988.
The store suggested that anyone interesting in "carrying on the legacy of New Renaissance should contact it via e-mail.
The store closed its sad announcement with this sentiment: "The vital spark that this shop has sent into the world will not diminish, but be kept alive in every heart who seeks to understand itself and others with compassion and love."