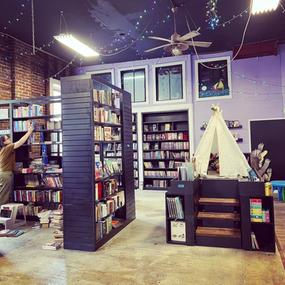 The Haunted Book Shop's new store in progress.
The Haunted Book Shop, Mobile, Ala., which carries new, used & rare books, is on the move. FOX10 News reported that Angela Trigg, owner of "Mobile's funkiest bookstore," said the store needed a more accessible location and is relocating from Dauphin Street to the corner of Joachim and Conti streets, across from the Saenger Theatre. During the transition, the staff has been working out of the new store as well as the current location.
Saying that she can't wait for the grand opening, Trigg said, "It's sort of a soft opening right now.... We love to hyper organize and we aren't there yet. We're still unpacking and organizing but our official grand opening is going to be Artwalk of August."
The Haunted Book Shop, which has been chronicling the progress of renovations in the new space for the past few months on its social media sites, tweeted Saturday: "We're moved into a new place! It's exciting!"