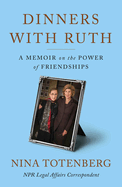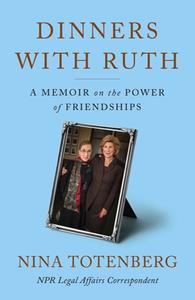 Longtime NPR legal affairs correspondent Nina Totenberg met Ruth Bader Ginsburg in the 1970s, early in both their careers. Totenberg's thoughtful first book, Dinners with Ruth, traces their five-decade friendship. But it also provides broader meditations on friendship and building community, as well as a candid glimpse into Washington insider politics and the challenges of being a woman in that male-driven environment.
Totenberg begins at the end: "The last time I saw Ruth, it was for supper." She gives a brief overview of her long bond with Ginsburg, which lasted through grief, professional challenges, health struggles and the Covid-19 pandemic, and included many meals together. She then takes readers on a tour of her early life and family history as well as Ginsburg's, noting their similarities along with the deep differences in their backgrounds. The book continues in this way: it is primarily Totenberg's story, but she shares biographical information about Ginsburg, weaving the facts together with anecdotes from their friendship. Totenberg also emphasizes her ties to NPR colleagues Cokie Roberts and Linda Wertheimer, and the ways they supported each other personally and professionally: "natural allies as well as friends."
While the book centers on the relationship between Totenberg and Ginsburg, the chapter titles hint at its broader range of insights: "Unexpected Friends," "Fame and Friendship," "Friendship Is a Choice." Totenberg muses on her parents' friendships, which she witnessed as a child; her own budding friendships as a young woman and early-career reporter; and the longtime connections that have sustained her through subsequent years. She shares stories from her first marriage to a much older man, and the ways her friends carried her through his illness and death. Totenberg also writes joyfully of her second marriage to Dr. David Reines, a surgeon who became a close friend and medical adviser of Ginsburg. She explores the different aspects of friendship against the backdrop of highly educated, highly political Washington circles, emphasizing the simple acts of care that deepen a bond: listening, sharing meals, showing up.
Ginsburg herself appears much as readers may have already seen her: a fierce intellect with a wry sense of humor and a deep commitment to the law. But Totenberg's warm recollection of their years together reveals a different side of Ruth: her love for shopping and French bouillabaisse, her appreciation of gossip, her tenacity in being there for friends despite illness, work and other challenges. Readers will come away with a fuller portrait of RBG, but also a wonderful rendering of Totenberg's friendships and perhaps a deeper appreciation for their own. --Katie Noah Gibson, blogger at Cakes, Tea and Dreams
Shelf Talker: NPR correspondent Nina Totenberg chronicles her long connection with Ruth Bader Ginsburg and muses on other deep friendships.