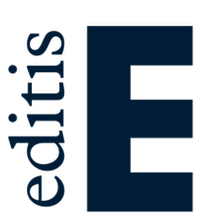 Describing the development as "a full about-turn," the Bookseller reported that Vivendi said it will try to sell off France's second-largest publisher, Editis, when it takes over the Lagardère group, which owns Hachette Livre. Vivendi's plan "would involve a distribution of the group's shares to its shareholders and a listing on the Euronext stock exchange in Paris. Vivendi now holds 57% of Lagardère, but pending approval of the merger, just under 23% of voting rights."
Vincent Bolloré, Vivendi's main shareholder, had previously said the aim was to merge the groups in order to create a powerful, world-scale publisher. Protests against the prospect of a merger have come from other publishers, including Gallimard; booksellers, led by the association Syndicat de la Librairie Française (SLF); and authors. The Bookseller noted that a sale of Editis "would avoid a probable drawn-out wrangle with the competition authorities at the European Commission in Brussels."
Martine Prosper, general secretary of the CFDT book and publishing union, said, "It is clear that Monsieur Bolloré has realized a merger is not possible, which is what we have been saying all along. We have always said it would be dangerous for the book industry.... Editis has been passed from hand to hand several times in recent years. It needs stability, and preferably a main shareholder that is a book professional. That means a European publisher, but which one?"
---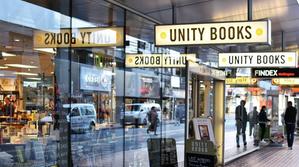 New Zealand bookseller Unity Books in Wellington was named winner of the Nielsen BookData Bookshop of the Year Award at the Aotearoa Book Trade Industry Awards in Auckland. Books + Publishing reported that Unity Books, founded in 1967, was cited for its customer engagement. Judge Ben Brown said, "Investing time, knowledge and professionalism across [the] relationships that make the business buzz, with an endless curiosity and willingness to explore whatever circumstance might further the aim of uniting the right books with the right people is what consistently sets this bookseller apart as exemplar to the trade."
David and Jenny Hedley from Hedley's Books in Masterton were recognized with the Lifetime Achievement Award. Hedley's Books is the country's oldest family-owned independent bookstore and was founded by David's grandfather in 1907. Since then, 19 Hedley family members have worked in the business.
"Together they have worked tirelessly not just on the shop floor, handselling the joy of reading to whoever walks in, but also setting up innumerable festivals, countless book launches, large and small--and their warm-hearted family welcome is the highlight of any author's tour, from George Harrison to Tom Sainsbury,"' said David and Jenny's son Alex, who presented them with the award.
The Emerging NZ Bookseller of the Year award went to Lisa Adler, manager of Vic Books in Pipitea, which noted that she had "started bookselling three and a half years ago after leaving a career in palliative care nursing and pursuing a degree in English Literature." Check out the complete list of winners here.
---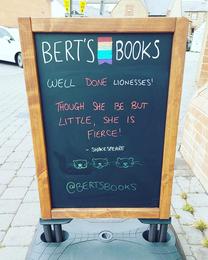 Indie booksellers were among the thousands (perhaps millions) of football fans celebrating England's dramatic 2-1 Women's Euro 2022 final win against Germany at London's Wembley Stadium on Sunday. Among the British bookshop celebrants:
Red Lion Books, Colchester: "No, you're crying! To celebrate, we are offering 20% off of any sport books on Monday 1st August." And later: "Still smiling from yesterday. Thanks to Colchester's Mayor Tim Young for making the lion link and our designer Lee Thomas for tinkering with our logo #Lionessess."
Bert's Books, Swindon: "Well done Lionesses! 'Though she be but little, she be fierce.' --Shakespeare."
Rossiter Books, Ross on Wye, Monmouth, Leominster & Cheltenham: "If your girls are inspired to start playing the beautiful game, they might enjoy some of these books too. And for the boys who already love life on the pitch, there is plenty for them as well."
Five Leaves Bookshop, Nottingham: "Good morning! Happy Monday, happy August etc, etc.... How was your weekend?"
---
In Belgium, Luddites Books & Wine in Antwerp featured a video portraying the difference between the fantasy and reality of working in a bookstore. --Robert Gray