Some indie booksellers in the St. Louis, Mo., metro area are still in recovery mode in the wake of flooding from the torrential rains that hit the city last week.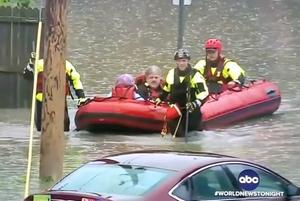 Book House manager Dave Simmons and his wife, Kate, being rescued from the floodwaters
The Book House in Maplewood reported that the store had "weathered the storm okay, but our Manager Dave (The tall Yorkshire bloke) He and his wife Kate lost their house and their car in the flood last week. They are currently in a hotel with their two cats. You can donate thru gofundme here or come by the shop. Thanks."
At Left Bank Books, post-flood clean-up efforts continue. The store has set up a flood recovery donation page, noting: "The booksellers you know and love have worked tirelessly to salvage and clean and move things to safety. Obviously we have taken a loss, though I can't say yet how bad. We've lost books, fixtures, carpet, supplies, and critical revenue. It will take a while to know how much and we are still waiting for the flood remediation folks to show up and dry out that scary carpet. We have insurance but it won't cover payroll or lost revenue, which increases the longer we are closed.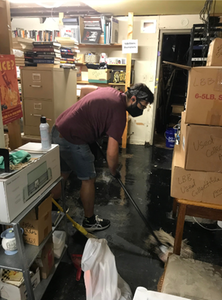 Clean-up continues at Left Bank Books.
"The good news is, we will recover. The good news is, we can sell books to you online and over the phone. We've done that pivot. If Covid was good for anything at all, it was that we discovered how resilient and smart we are when it comes to solving problems. Please be patient with us and try to flow with the pivot and its quirks. As of this writing, our all important server computer has finished the dehumidification process so we can be fully functional online. This will allow us to process your orders, take your calls, and to communicate with our warehouses and publishers.
"We sincerely hope you have fared well during this time. We know this is a challenging time. Remember that now more than ever, supporting locally owned businesses is critically important to the health of our St. Louis economy. The roads, the first responders, and all that urban infrastructure we depend on, depends on our tax dollars."