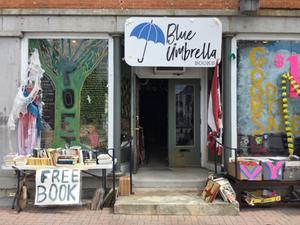 Blue Umbrella Books in Westfield, Mass., closed for the last time on July 31, after nearly six years in business. While owner Russell Atwood hopes to reopen in a new space at some point in the future, he has no immediate plans to do so.
"Blue Umbrella Books was a gigantic success while it lasted," he wrote. "We excited, stimulated, challenged and amazed our customers from toddlers to senior citizens, and were best known for our book events and eye-popping window displays."
Atwood, who is also a mystery writer and puppeteer, attributed the closure to a number of factors, including back rent owed, lingering effects of having to close for five months in early 2020 and personal exhaustion during the pandemic.
Despite the closure, "it was the journey along the way and the creativity we sparked in the hearts and minds of our community that allows me to state with complete confidence: we succeeded even in failing. Thank you, and always fight the good fight."