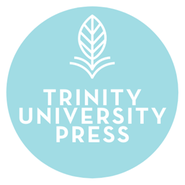 Trinity University Press has launched two imprints, Tinta Books and Terra Firma Books. Tinta Books will highlight the history, culture and current affairs of Mexico and Mexican American life, while Terra Firma Books will explore the relationship between humans and their physical environment, from nature and wilderness to architecture and urban studies.
Tom Payton, publisher and director of Trinity University Press, said: "As a mission-driven organization that has grown considerably over the past ten years, we're excited to see this evolution in our publishing program and the audiences we serve."
Yvette Benavides, a professor of English and creative writing at Our Lady of the Lake University in San Antonio, Tex., is now editor-at-large for Trinity University Press, which is also located in San Antonio. She will focus on shaping and growing Tinta Books but will also acquire more broadly for the press.
"One of our main goals in publishing is to help readers move to a more profound understanding and appreciation of the rest of the world," Benavides said. "For us, the connection to Mexico is something we already admire and value. We're excited about strengthening that connection and our mission to bring works by and about Mexicans and Mexican Americans to more and more readers."