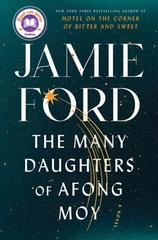 Alex Kanenwisher, book buyer at Costco, has selected The Many Daughters of Afong Moy by Jamie Ford (Atria, $28, 9781982158217) as the pick for August. In Costco Connection, which goes to many of the warehouse club's members, Kanenwisher writes:

"I fell under Jamie Ford's storytelling spell years ago and am still enchanted after reading this month's book buyer's pick, The Many Daughters of Afong Moy.

"When Dorothy Moy undergoes treatment to mitigate inherited trauma, she connects with past generations of women in her family. The process leaves Dorothy striving to break the cycle of pain and abandonment and hoping to find peace for her daughter."