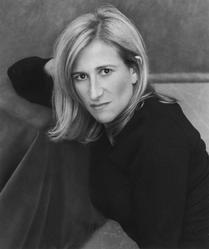 Melissa Bank
Author Melissa Bank, best known for her 1999 bestseller The Girls' Guide to Hunting and Fishing, died August 2, USA Today reported. She was 61. In a statement, her publisher, Penguin Books, called Bank "a writer with a distinctive minimalist style and boldly hilarious voice," adding that "she captivated generations of readers with her warmly piercing takes on relationships, family and adulthood."
The Girls' Guide to Hunting and Fishing is a collection of linked short stories about Jane Rosenal, "starting at age 14 and following her adventures and travails in sex, love and work with a relatable, comic touch." Bank followed it up with The Wonder Spot (2005), a novel "about another young woman, Sophie Applebaum, and her quest to forge her own identity," USA Today wrote.
A Philadelphia native with a master's degree from Cornell University, Bank "needed 12 years to finish The Girls' Guide, in part because of a bicycle accident that damaged her short-term memory and ability to think of words," the Associated Press noted. Two stories from the book were adapted into the 2007 romantic comedy Suburban Girl, starring Alec Baldwin and Sarah Michelle Gellar.
Several writers paid their respects to Bank on social media, including authors Jami Attenberg ("RIP to Melissa Bank, who wrote a smart and funny book lots of people loved (and tried to imitate for years), The Girl's Guide to hunting and Fishing."); and Laura Zigman: "Such heartbreaking news. This beautiful collection by #MelissaBank was such a landmark for me and so many others."