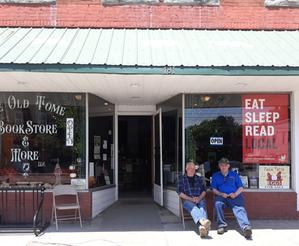 The Old Tome Bookstore & More is finding its footing after opening in Afton, N.Y., late last year, the Daily Star reported. Owner Mel Mueller sells predominantly used books along with a selection of new titles, particularly from local authors and small presses. The shop also has a Bookshop.org page.
Mueller, who is a welder and fabricator by trade, told the Daily Star the bookstore essentially fell into her lap. She caught wind of a group of people who had a collection of around 30,000 books they wanted to get rid of, and when she learned they intended to burn the books, Mueller said, "No, we're not going to have that, let me take them."
After she purchased another sizable book collection, a friend showed her a retail space at 181 Main St. in Afton. Once Mueller secured that, she realized she needed more variation in her collection, so she "bought out a school, a college and a whole bookstore." Now she has an inventory of about 67,000 books. "It's everything from brand-new from publishers to antique, rare and collectible," she added.
The store has some locally sourced nonbook items for sale as well. There are bags and jewelry from local artists and even farm-fresh eggs and honey. Over the next few months, Mueller plans to bring in a line of candles and bath salts called Dragon Sense. The Old Tome's event offerings, meanwhile, include a reading program for children in grades six through 12 and "an unplugged program where anybody can earn free books."
Looking ahead, Mueller said she plans to put the bookstore's entire inventory online, which is a "big undertaking." She may eventually expand to a larger space, but she told the Star she has no immediate plans to do so.
"We're happy with the space," she said. "It's nice and cozy; it's homey and people feel like they're in a living room when they stop and visit... and we absolutely want to keep that atmosphere of it."