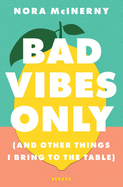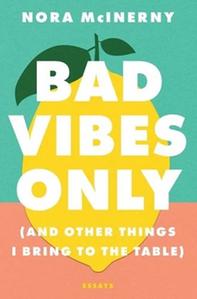 Nora McInerny's fifth book, Bad Vibes Only, is a witty, insightful set of essays about self-worth and parenting in the social media era. Those familiar with the author's previous autobiographical works will remember that within a few weeks in 2014, her father and first husband, Aaron, both died of cancer. After several years as a single mother, she married Matthew and they blended their families.
Even when dealing with serious topics like anxiety and narrow escapes, McInerny (Bad Moms) has a consistently light touch. "I have always been the saddest happy person I know (or maybe the happiest sad person I know)," she jests. She likens finding a therapist to online dating, while "Competitive Parenting Association" issues a satirical welcome pack of guidelines. Channeling humorists like Nora Ephron, she writes about her extreme homebody nature, her surprise at learning a college friend became a nun, and recounts taking a recreational drug to get through her 20th high school reunion.
McInerny is endearingly honest, aware of her privilege and open about her contradictions. She refers to herself as "proudly middle-aged," but admits she gets regular facial injections. Addictive behaviors run in the family--her father was an alcoholic and she had an eating disorder in college--and she also acknowledges her addiction to her phone. She links her schoolgirl academic perfectionism to her current zeal for likes and comments on social media.
The then-and-now focus compares pre-Internet childhood with the challenges of raising kids with a constant online presence. The author remembers canoeing miles into town with a cousin from their grandparents' lake cabin one summer. No one noticed they'd gone. The standout essay, "Privacy Settings," voices regret over documenting every moment of her first son's early years online--whereas her mother made her a baby book only when McInerny was 37.
McInerny's podcast, Terrible, Thanks for Asking, has established her as a public expert on grief, yet she is uncomfortable with the "influencer" designation. "Anyone Can Do It" articulates her distaste for personal branding. Having barely broken even with her own ventures, she is dubious about claims that millions can be made through Instagram. Her uncle Denny, who has never used the Internet, emerges as an unlikely hero, the depth of their renewed connection exposing the superficiality of online exchanges.
There may be no nuance on the Internet, but there's plenty in these 19 funny, bittersweet essays. --Rebecca Foster, freelance reviewer, proofreader and blogger at Bookish Beck
Shelf Talker: Nora McInerny's 19 witty autobiographical essays examine identity, connection and parenthood through the lens of the Internet.