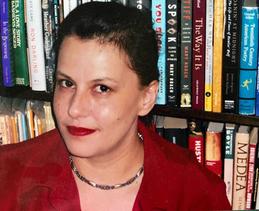 Tasha Bushnell
Tasha Bushnell, longtime bookseller at Hyde Brothers, Booksellers, in Fort Wayne, Ind., died September 3 at age 46.
She began working at Hyde Brothers in 1999 and became manager after Sam Hyde died in 2019. Last December, she and her husband, Sean, bought the store. Her obituary noted, "She will be remembered as an avid reader and sports enthusiast and a champion for her home, her family and her community. She absolutely rocked the color red and will be dearly missed."
In a Facebook post, the store wrote in part that Bushnell was "dedicated to enriching the community and the Historic Wells Street Corridor. Despite this overwhelming loss, we want to be clear: we are steadfast in the vision of the bookstore and will remain open. Losing two fearless leaders in the span of three years is unfathomable but we are carrying on through our grief, just as Tasha and Sam would have wanted. Tasha's husband Sean and two children, KT and Madison, will continue to operate the bookstore with the rest of the staff, surrounded by the books and community that Tasha loved so dearly."