NYRB Classics have become both "design objects and totems of intellectual status," as the New York Times put it. I have friends who collect the paperbacks and house them all together on a single shelf, their colorful unadorned spines forming a pleasing visual pattern that features prominently in their social media posts and as their Zoom backgrounds. I'm also an NYRB superfan: I've been meaning to write this column for a few months now, but I got distracted reading The Go-Between by L.P. Hartley and Varieties of Exile by Mavis Gallant, both NYRB Classics. While NYRB's originals imprint has recently gotten some attention after The Netanyahus by Joshua Cohen won the Pulitzer Prize and Benjamín Labatut's When We Cease to Understand the World was featured on Obama's Summer 2021 Reading List, the cult following for this publisher in the bookish corners of the Internet doesn't seem to include NYRB's comics imprint, NYRC. Here are some NYRC titles that deserve some attention: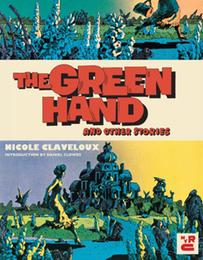 The Green Hand and Other Stories by Nicole Claveloux, translated from the French by Donald Nicholson-Smith, introduction by Daniel Clowes (New York Review Comics, $22.95, 9781681376684)
In the introduction to The Green Hand by Nicole Claveloux, Daniel Clowes writes that until the graphic novel was translated from the French for NYRC, he'd technically never read her work. And yet, the drawings he saw in Heavy Metal magazine decades ago had such a profound grip on him that he feared the newly translated work "could only diminish the mysterious power of her images." Evidently, this wasn't quite true. The translation allowed him, he wrote, to enter the "fearless, inward-focused [world of] artistic self-assurance and intensely felt clarity of vision" that Claveloux and her collaborator Edith Zha had created. Their work is vivid, dreamlike, and funny in a way that is surely felt but maybe not easily explained. Demented facial expressions drawn with painstaking shading and visual non sequiturs fill the pages of this newly translated underground comic, and I've been searching eBay for Claveloux prints since I finished.
How to handsell: An adult Alice in Wonderland, this surrealist graphic novel has bracing colors and features a depressed human-sized crow in a bowler hat.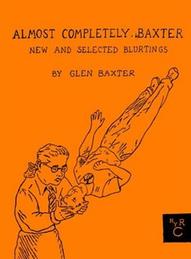 Almost Completely Baxter: New and Selected Blurtings by Glen Baxter (New York Review Comics, $22.95, 9781590179857)
Even more so than The Green Hand, the non sequitur is the engine behind Glen Baxter's work in Almost Completely Baxter: New and Selected Blurtings. Those who follow Baxter's delightful Instagram are familiar with his style: single panels depicting curious scenes that seem like they have been pulled from a longer story mid-plot. While Baxter's Wikipedia describes his work as belonging to the genre of "literary nonsense," I think a better way of describing him is as a pioneer of flash fiction. His methodically neat crayon drawings paired with one-liners demonstrate an incredible economy of storytelling that most New Yorker cartoonists surely aspire to.
How to handsell: An extremely fun collection of single-panel comics accompanied by elaborate, cinematic histories written by several of Baxter's fake characters, Almost Completely Baxter is perfect for fans of absurdist fiction or anyone with a sense of humor.
All Your Racial Problems Will Soon End by Charles Johnson (New York Review Comics, $34.95, 9781681376738)
Coming in October 2022 is another collection by an artist who has also perfected the single-panel comic. Many know Charles Johnson as the National Book Award-winning author of Middle Passage, but much of his early career consisted of cartooning for local Midwestern newspapers. This new collection, All Your Racial Problems Will Soon End, features hundreds of single-panel comics from various now out-of-print books Johnson had published in the 1960s and '70s. Regularly producing cartoons for Southern Illinois University's newspaper, the Daily Egyptian, Johnson was politely asked by one faculty adviser to refrain from "doing the cartoons in which [he] was calling for revolution." Johnson's work, even decades later and full of dated visual references, such as to the Black Panthers, still feels vital and fresh. Johnson's work is trenchant and morally rigorous while never sacrificing its good humor. One of my favorites is a panel that depicts two drinking fountains. Above one there is a sign that simply says "whites only." Above the second cracked fountain beside it is a sign that has "Colored," "Negroes," and "Afro-Americans" all crossed out, with "Blacks only" remaining below it. Language's disconnect from material conditions is a dilemma we may not be any closer to resolving.
How to handsell: For fans of newspaper-style cartooning, and activists who want a visual account of both how much and how little has changed since the 1970s.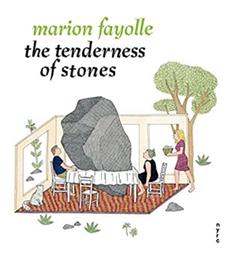 The Tenderness of Stones by Marion Fayolle, translated from the French by Geoffrey Brock (New York Review Comics, $32.95, 9781681372983)
Fayolle's The Tenderness of Stones, a cream-colored matte hardcover with an illustrated interior drawn in earth tones, has to be the most gorgeous book in my apartment. Fayolle introduces incredible textures into her illustrations, many looking like they're made from construction paper. The drawings are surreal, and the story is written with a gentle, almost affectless irony that fits Fayolle's subject matter: she and her family are watching her father's body systematically shut down. Her metaphors are stark: her father becomes a child again, he wheels his lungs around in a wagon. The boundaries between the father's body and the bodies of his family start to blur as they become his hands, doing his chores, and his mouth, interpreting what they think his thoughts might be to others. An extraordinarily restrained portrait of a universal human experience, The Tenderness of Stones is a book about grief I'd recommend to anyone.
How to handsell: For those going through the process of mourning, or for anyone who appreciates skillful, restrained visual storytelling.