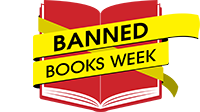 Banned Books Week is underway, and indie booksellers nationwide are posting photos, book picks and opinions on their social media channels. We're sharing a selection of them with you, including: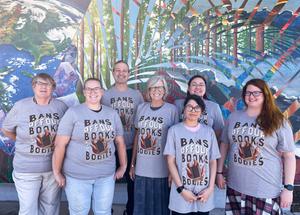 Watermark Books & Café, Wichita, Kan.: "You are probably as confounded as I am about book banning. Books are powerful. I love the moment when I finish a book and let it soak in. A pause for reflection. Sometimes books blow my mind. Sometimes they make me angry and scared. Or force me to rethink an opinion. Sometimes I even give that book a hug.... Watermark Books & Cafe is joining other bookstore and libraries to advocate for the freedom to read by participating in Banned Books Week." --Sarah Bagby, owner.
Charis Books and More, Decatur, Ga.: "Teenage dirtbags who read #bannedbooks grow up to be booksellers! What book got you through the teen angst??"
Read Between the Lynes, Woodstock, Ill.: "Friends, we're a couple of days into Banned Books Week, and we're so grateful for your response in our chats with you both in-store and on social media. We are also very thankful for your donations of banned books to D200 Woodstock students."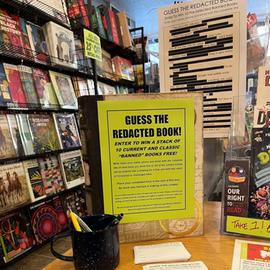 Firefly Bookstore, Kutztown, Pa.: "Friends! It is Banned Book Week! We love all kinds of books here at Firefly, especially the 'banned' titles. In honor of Banned Book Week, we will be giving a stack of 10 current-and-classic banned books to someone who can figure out the banned title we've selected based on a redacted excerpt. Stop on in between now and Monday, 9/26, to give it your best guess!"
A Novel Escape, Franklin, N.C.: "It's Banned Books Week! Can you guess what book is hiding under the paper bag? This one is banned for being 'sexually offensive' and 'real downer.' Put your answer in the comments! We'll reveal the answer in stories later today!"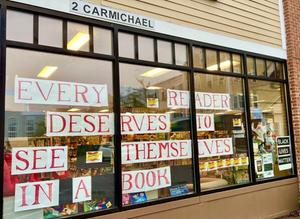 Phoenix Books, Essex & Burlington, Vt.: "Happy #BannedBooksWeek. 'Every reader deserves to see themselves in a book'--this is the message we have in our window at the Essex location in honor of Banned Books Week. The lettering in the window, hand drawn by one of our lovely booksellers, Caroline, is inspired by the ALA slogan and the book, Attack of the Black Rectangles by A.S. King."
Pagination Bookshop, Springfield, Mo.: "Every book in this post, at some point or another, has been banned. This week at Pagination, we are celebrating Banned Books. We believe that sometimes the most challenging reads are the most necessary.... We will be doing our part to put these books into the hands of readers, and we welcome your input not only this week, but all the time, to help us find the stories, and the voices, that are in danger of being silenced."
2 Dandelions Bookshop, Brighton, Mich.: "Have you seen our display of banned and challenged books? These are just a small sampling of banned books that we have in stock! Want one that you can't see? We are happy to bring it in for you! Our comfy green chair is available for banned book reading all week (or whenever!)--we invite you to read a new one or an old favorite!"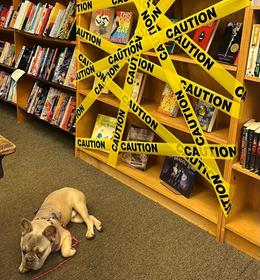 Buffalo Street Books, Ithaca, N.Y.: "Frodo [left] thinks banning books is so dumb it's beneath his notice, and he's not wrong. BUT we want you to take notice this #bannedbooksweek. Stop in to browse some of the most banned books of the last few years."
Main Point Books, Wayne, Pa.: "It's #bannedbooksweek and this year it is more important than ever to pay attention and vote in local elections! Want to learn more and have fun? Join us @teresas_wayne on Saturday, September 24, 1-4 p.m. for a #boozybannedbookfair."
Carmichael's Bookstore, Louisville, Ky.: "We have #BannedBooksWeek displays featuring some of the most commonly challenged and banned books in the country. And know that these books make up only a small portion of the many books that people have tried to pull from libraries and classrooms. At both the Bardstown Rd. and Frankfort Ave. locations, you'll find an invite for you to take a photo with a favorite banned book and a handmade sign that says 'Apprehended Reading Banned Books.' "
Mysterious Galaxy, San Diego, Calif.: "Our booksellers at Mysterious Galaxy celebrate the freedom to read what we want. We celebrate books of diversity and representation all year long, but this week is most important to advocate our voice and uplift those who cannot do the same.... Fight Evil, Read Books!"