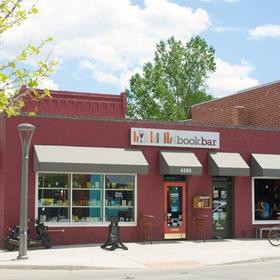 Citing fatigue and rising costs, Nicole Sullivan is closing BookBar, Denver, Colo., the 10-year-old bookstore and wine bar, on January 31. Sullivan will continue to operate her other bookstore, the Bookies; her nonprofit organization, BookGive; and the small press, BookBar Press.
"With nearly all costs of doing business on the rise, our expenses continue to outpace revenue," Sullivan said in a statement. "It's just no longer sustainable for the long-term. Ten years feels like a good run for a hybrid business model that requires an intense amount of work and financial investment. As much as I will miss the community we've created at BookBar, I'm truly ready to move on, shift my focus, and definitely work less." She cited "the tumult of Covid" and wanting to slow down, spend more time with family and friends, pursue other interests, and focus more on her other book businesses.
In a note to customers, Sullivan added that the store "has found success beyond my wildest dreams, and I am eternally grateful for all of the kindness, friendship, enthusiasm, and support this community has given us. We have far exceeded my expectations....
"[However] running a bookstore, especially a hybrid bookstore and bar, is a complex business model that requires a massive amount of hard work, late nights, missed opportunities, and a non-existent work-life balance.... As much as I love BookBar, it has left me with precious little time to explore other interests, take a vacation, get blissfully bored, or read more than one book a quarter."
In a blogpost, Sullivan called the upcoming minimum wage increase in Denver on January 1 "the final nail in the coffin." She emphasized that "I'm certainly not against raising the minimum wage," but that "the simple math" is daunting. "When I opened BookBar in 2013 the minimum wage was $7.78. In January it will increase to $17.29. That is roughly a 122% increase in the past 10 years. Compare that to the price of books, which have only increased around 5-7% in the past 10 years. It just doesn't work. While the bar certainly helps to increase our overall margins, it also increases the work and complexity of the business, and food and beverage establishments can only raise their prices so much. Booksellers can't raise our prices at all. As long as publishers continue to print prices on the covers of books, bookstores have no control over our margins."