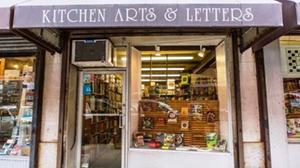 "Did you know that there are 16 dedicated cookbook stores across the United States and New York's Kitchen Arts & Letters is the oldest of them?" Total Food Service asked to introduce a q&a with managing partner Matt Sartwell, who has been with the store for more than 30 years. Among the highlights:
Tell us about your professional life before joining Kitchen Arts & Letters bookstore.
I was an editor at Penguin for about six years. I didn't work with food books: I kept cooking separate from the daily grind of marketing meetings and battles over acquisition budgets. But I was the guy who cooked for office parties.
Who is your customer base and how do you select your offerings?
The biggest, most loyal part of our base is the professionals. Chefs, caterers, bakers. They need good books in a way that home cooks don't. Home cooks may love a new book, but professionals have to keep investing in their livelihood. They may come looking for practical information, like an innovative book on fish butchery, or they may want something that just makes them sit up and start thinking creatively after being in a rut. Imagine running a beverage program and having to develop new cocktails to keep up with all the pretty things people see on Instagram. The drinks may look great, but how do they taste and how practical are they for the height of service? Books are a path to problem-solving.
What trends in cookbooks have you seen over the years?
The most consistent is that cooks and books have become more adventurous. Books offer more detail, more science, more culture, and explore regions and traditions that were considered too offbeat a few decades ago. Another is that people want to be able to make things that they might have formerly bought, whether a restaurant is preparing its own house mustards and mixers, or curing its own salumi. Some of that change comes from the desire to reduce food waste, to be more sustainable, and more seasonal. And whether a restaurant is serving its own bread or prosciutto, or develops a signature cocktail built on an ingredient they ferment in-house, it's all about standing out from the competition.