The devastating impact of Hurricane Ian on Florida continues even as the storm tracks up the Southeast coast. Ian made landfall Wednesday near Ft. Myers, Fla., and many bookstores in its path that had closed earlier in the week as a precaution have not responded or updated their social media pages yet. Massive power outages, potential storm damage and travel inaccessibility could all be contributing factors. A few have checked in, however, including: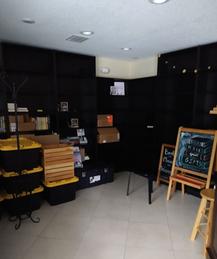 Portkey Books post Ian
Portkey Books, Safety Harbor, Fla.: "I'm here! The books are safe! I'm going to start putting them back on the shelves, starting with the special orders. The store has no power, but we started as a pop-up shop so we know how to operate on battery. Come say Hi, to pick up your special orders, or to take a chance on buying a random book from a random box as I unpack them. I'll post again to let you know when I close for the day. Hope you all fared well!"
Story & Song Bookstore Bistro, Fernandina Beach, Fla.: "Despite the tropical storm, Story and Song remains open today for any who need a good book to weather through this storm. Our bistro is serving a limited menu."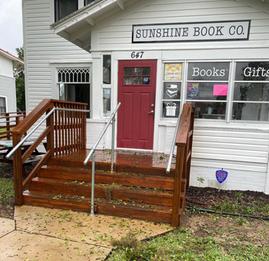 Sunshine Book Co., Clermont, Fla.: "Our beautiful bookstore is just fine after Hurricane Ian! Lots of debris, but that was to be expected. Thank you for all the positive thoughts and prayers, and kind words. We will resume regular hours tomorrow, and hope to see you between 10-6. This 100+ year old house held up well!"
The Vero Beach Book Center, Vero Beach, Fla.: "The Book Center is CLOSED this morning. We will reassess as the day goes on about this afternoon."
Books & Books at The Studios, Key West, Fla.: "All is well at the store. We're going to clean up a little and we'll be back open at noon. We know you finished your book/art project/puzzle, come restock!" And: "Thanks to Hurricane Ian, this week it's new book Thursday!"
Bookstore1, Sarasota, Fla.: "We managed to get an eBlast out for those needing some distraction. We hope to be open on Friday, but we are not sure. All the best to everyone."
Walls of Books, Oviedo, Fla.: "We are praying everyone is doing okay today. We will be doing damage assessment at the store Friday and determining how much water we may need to dry up around the doors (unfortunately we have had water intrusion during regular heavy rainstorms so we expect we have some wet carpets right now). We will keep you all updated and please feel free to post here if anyone has any needs that can be met by close neighbors today."
Tombolo Books, St. Petersburg, Fla.: "The internet has been restored and we're rushing to get all those storm orders out! We'll be open Friday morning at 10 a.m. Thank you for shopping with us, even through the storm."
Pressed LKLD, Lakeland, Fla.: "We'll be back open tomorrow with fresh @honeycombbread baked goods, hot @ethosroasters coffee, great reads, and smiling faces."
We'll have more Hurricane Ian updates next week.